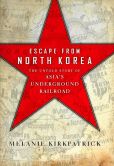 Today is World Refugee Day, as designated by the United Nations in 2001, though the day has been observed internationally for sixty years now. According to the renowned sociologist Zygmunt Bauman, the modern refugee problem should not be attributed to wars and despots but to a civilization that seems hard-wired for "excess, redundancy, waste and waste disposal." Bauman's argument in Wasted Lives: Modernity and Its Outcasts (2004) is that refugees, like migratory workers and other displaced groups, are "human waste" — globalization's human throwaways, and an inescapable by-product of "have and have-more" economic progress.

Theory aside, the tales of displacement and flight continue to pour in. Escape from North Korea (Melanie Kirkpatrrick, 2012), Escape from Camp 14 (Blaine Harden, 2012), and Long Road Home (Yong Kim, 2009) describe attempts to flee the modern world's most repressive dictatorship. Subtitled "The Untold Story of Asia's Underground Railroad," Kirkpatrick's book has many happy endings, some by the narrowest of margins. Sold as a bride to a Chinese farmer, "Hannah" — few escapees are willing to use their real name, given the North Korean regime's policy of punishing three generations of relatives — recalls being threatened with death if she didn't submit: "North Koreans like you," spat her purchaser-husband, "are easier to kill than a chicken."

Much of the systematic killing in North Korea is the direct or indirect product of invasive, withering indoctrination. Long Road Home is the biographical story of an orphan who rose to officer rank in the military, ran afoul of the authorities, and spent years in a notorious labor camp before escaping to the West. As a state orphan, one could not eat food until thanks were given to Our Great Leader; for those in the gulag, food was so scarce that prisoners even had to rat on themselves:
In addition to enduring backbreaking labor, prisoners were supposed to submit written criticisms of other prisoners four times a week and self-criticisms twice a week. This was done during the daily study session at night, when everyone was in complete delirium, fading away into sleep.… There was really nothing to confess, but we all had to come up with something in order to avoid severe punishment. Writing self-criticism was hard labor of the mind. Some prisoners used the occasion to receive more food. When they submitted particularly important information about society, the guards offered them a full bowl of corn. Everyone was so hungry, but some weaker ones submitted false self-accusations to get an immediate reprieve from unbearable hunger.
---
Daybook is contributed by Steve King, who teaches in the English Department of Memorial University in St. John's, Newfoundland. His literary daybook began as a radio series syndicated nationally in Canada. He can be found online at todayinliterature.com.