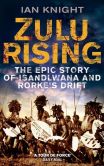 The Battle of Rorke's Drift, the most famous encounter of the Anglo-Zulu War, concluded on this day in 1879, a garrison of 150 British and colonial soldiers defeating some 4,000 Zulu warriors. Viewed by the winning side as a supreme demonstration of British know-how and pluck, the legendary battle was immediately iconized in popular paintings and commemorative products. The 1964 movie Zulu refreshed the legend, adding a number of fictional flourishes. Today, with the empire gone and imperialism discredited, Rorke's Drift remains an important case study for military and social historians — for example in Carnage and Culture (2001), a study of nine "Landmark Battles in the Rise of Western Power" by Victor Davis Hanson — and armchair soldiers can choose from among several computer games for their reenactment.

South Africa recently erected a memorial at Rorke's Drift, a sculpture showing a mound of fallen warriors' shields guarded by a wary leopard. At nearby Isandlwana is a companion memorial commemorating the battle fought there just hours before Rorke's Drift, this time with the Zulus triumphant. The sculpture features lion's claws and thorns linked in a warrior's isiqu, a traditional necklace of valor.

Ian Knight's Zulu Rising: the Epic Story of Isandlwana and Rorke's Drift (2010) begins with a story about warriors and thorns. While doing research for his book n 2007, he visited the Zulu memorial on the anniversary of the two battles, accompanied by a British friend whose great-grandfather had fought in them. As they sat in the grass eating their lunch, they noticed a group of Africans nearby. Three from the group separated themselves, two kneeling down while the third, holding a sprig of thorn tree, addressed some comments to the valley below. After a solemn silence, the three rejoined the larger group and they all returned to the car park, where Knight was able to get an explanation:
[W]e had unwittingly stumbled upon a ceremony to return the spirit of a Zulu man, killed in the battle 128 years before, to the home of his modern family. The sharp thorns of the bush are said to catch the spirit of the deceased, enabling those who practice the ceremony to transport it to a more sympathetic environment…. [T]he ceremony had been carried out at the request of elders within his family. They were concerned that recent troubles within the family might have been due to their failure to give proper reverence to the ancestral shadow which languished, restless and unacknowledged, upon the battlefield.
---
Daybook is contributed by Steve King, who teaches in the English Department of Memorial University in St. John's, Newfoundland. His literary daybook began as a radio series syndicated nationally in Canada. He can be found online at todayinliterature.com.