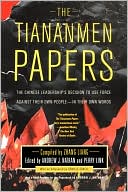 June 4: The Tiananmen Square Massacre occurred on this day in 1989. The decades have not much clarified the original reports in the western media that "hundreds, maybe thousands" of pro-democracy demonstrators were slaughtered, or much altered the official bulletins from the State Security Ministry claiming that "martial law troops did not shoot a single person to death and no person was run over by a tank." In Tiananmen Diary (1989), one of the first books to appear on the events, Harrison Salisbury chronicles June 4th as viewed from his room in the Beijing Hotel—the white-shirted students assembling quietly in the early morning dark, "like a great flow of moths across the dark pavement," the columns of troops and tanks arriving, the distant shouts and gunfire as waves of protesters flee and return, seeking safety or more material—cars and buses, bicycles, paving stones—for barricades.
Voices From Tiananmen Square (1990), The Tiananmen Papers (2001) and other anthologies give an inside view of the events, these often expressed by "A Student Who Survived," or someone else well within range of a rifle or reprisal. The excerpt below from "This is How They Died in Tiananmen Square" (Voices From Tiananmen Square) is attributed to a worker for the Capital Iron and Steel Company, who at first advised the students that the government would never resort to killing unarmed citizens:
Then my faith was shattered in a burst of gunfire. The People's Liberation Army was firing at the people. The crowd was stunned to see row upon row of people falling down. They tried to get out of the way, some running wildly about, with many falling down. As the gunfire died down trucks and armored vehicles rolled straight towards the crowd. The Square was very crowded, and many more lost their lives. I hid to one side and counted the dead. In that one small spot, from 2:10 a.m. to 3:05 a.m., twenty-nine people lay in a pool of blood.

Most tragic of all were the deaths of a young woman and her younger brother. The dead boy was pulled out of a pool of blood. Seeing him, his sister lit a cigarette, and prepared to rush at the troops. …Seeing her example, some young men rushed forwards too. At first the troops did not fire; then they shot at the crowd, and all the youths fell.
---
Daybook is contributed by Steve King, who teaches in the English Department of Memorial University in St. John's, Newfoundland. His literary daybook began as a radio series syndicated nationally in Canada. He can be found online at todayinliterature.com.