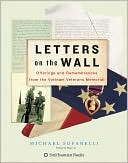 The Vietnam Veterans Memorial Wall in Washington, D.C. was dedicated thirty years ago today. The controversy surrounding Maya Lin's "anti-monument" has turned to praise on all sides, and the Wall has not only become the most visited war memorial in the United States but, says the art & architecture scholar Kirk Savage in Monument Wars, "bequeathed to us a therapeutic model of commemoration that has become the new common sense of our era." If a visit to the Wall is private therapy, Lin achieved the goal expressed in her original design submission:
Brought to a sharp awareness of such a loss, it is up to each individual to resolve or come to terms with this loss. For death, is in the end a personal and private matter, and the area contained with this memorial is a quiet place, meant for personal reflection and private reckoning.
The reckoning often includes leaving notes and mementoes, some 100,000 of them now collected by the Smithsonian for some future display or memorial of their own. A sampling can be found in books such as Shrapnel in the Heart and Letters on the Wall:
Barnett, my brother of war, our skin was not the same but our hearts were. I've missed you soul brother.
Travel in peace. You are in good company with our brothers McFarland and Loyd.
This ten pack is on me. I've come to have one last smooth with you.

Well here you are, making another lasting impression on me and everyone else who sees you! I love you so much. I have dreamed of the day you'll come home and finally be my Dad.… I'm 23 now! I sure look a lot different from six years old. You'd be very proud of me. They say I'm a lot like you. I can see it too. I have never forgotten you. I knew you were Santa Claus, but I didn't want to spoil it for you.
Your daughter, Sheri

How, my son, do I say farewell?
The red roses you ordered for Mother's Day, 1968, for me, were just beautiful. It was as if in all finality, you were thanking me and telling me of the love we shared together. The red paint on the big tree where you sprayed your hot rod engine is fading away. Dad will always cherish the railroad watch you left in his car. Your tools are just as you left them in the garage….
America has had no better than you, and you were ours.
Your Mom
---
Daybook is contributed by Steve King, who teaches in the English Department of Memorial University in St. John's, Newfoundland. His literary daybook began as a radio series syndicated nationally in Canada. He can be found online at todayinliterature.com.