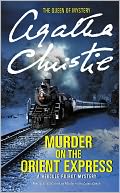 The Orient Express began service on this day in 1883—Paris to Istanbul in 83.5 hours, barring floods or landslides (or the kidnapping of the entire train for ransom, in 1891). Agatha Christie may be the most famous writer to have capitalized on the train's romantic allure, but the list of books begins decades before her (Dracula, for example) and goes for decades after. One of the last published before the original route was truncated or privatized in 1962 is Ian Fleming's From Russia with Love. Fleming's "Orient Express" chapter begins, "The great trains are going out all over Europe, one by one…." A few pages later, amid the clackity-clack and the double-dealing, 007 and Tatiana close their sleeping car doors to the Cold War, kindling "the flame that had suddenly lit between them—between the two secret agents, thrown together from enemy camps a whole world apart…antagonists by profession, yet turned, and by the orders of their government, into lovers."

Andrew Eames conveys a sense of the real and literary ride in The 8:55 to Baghdad: From London to Iraq on the Trail of Agatha Christie and the Orient Express (2005). In the following excerpt, Eames arrives at one of Dame Agatha's favorite Istanbul hotels, the Pera Palas:
From the outside the Pera Palas doesn't look like anything special, crowded as it is between the American Embasssy and new Sofitel, but it has been the address of choice of crowned heads and spies, and has made regular appearances in books by Graham Greene, Jan Morris, Dennis Wheatley, and Paul Theroux. Writing in the 1920s, American author John dos Passos describes an espionage murder in the foyer, where an envoy from Azerbaijan in a frock coat and a black astrakhan cap is shot by a bearded Armenian, and blood spreads out on the mosaic floor. Fifty years later, in The Great Railway Bazaar, Theroux writes of a "décor of decayed sumptuousness, an acre of mellow carpet, black paneling, and rococo carving on the walls and ceilings, where cupids patiently smile and flake."
Eames takes the birdcage lift, purportedly the oldest hotel elevator in the world, to his room—411, where Christie stayed, though he might have chosen rooms once occupied by Kemal Ataturk, Mata Hari, Greta Garbo, and Marshal Tito, among others.
---
Daybook is contributed by Steve King, who teaches in the English Department of Memorial University in St. John's, Newfoundland. His literary daybook began as a radio series syndicated nationally in Canada. He can be found online at todayinliterature.com.