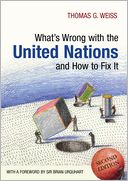 Today is United Nations Day, commemorating the signing of the UN Charter on October 24, 1945. The postwar negotiations that created the institution reflect a delicate balance, old fears jockeying with new hope, one governance issue solved by ultimatum, another by cooperation and concession. Perhaps it's appropriate, then, that Thomas G. Weiss's What's Wrong With the United Nations and How to Fix It is divided equally, the section on "Diagnosing the Ills" balanced by a "Palliatives if Not Cures" section, this "not based on pious hopes…but rather on specific and encouraging examples that could be repeated."

Weiss puts his discussion of the UN's controversial Global Compact in the second section of his book, though by the slightest of margins. The Global Compact began with a 1999 speech by Kofi Annan, then UN Secretary-General, which urged business leaders to partner with the UN to "give a human face to the global market." Thousands of companies from around the world have now voluntarily pledged themselves to corporate responsibility in four areas — human rights, labor standards, environment, and anti-corruption. Those who praise the Global Compact point to its promotion of such recent initiatives as Fair Trade and Go Green.

Those who criticize, crying "greenwashing" and "bluewashing," point to those member corporations which have merely used the GC affiliation and logo to reposition their brand and increase their profits. How, ask the Ayoreo Indians of Paraguay, can the company that is overrunning their tribal lands with bulldozers be a GC member in good standing? The answer, here and too often elsewhere at the UN, is that the GC has no effective screening or policing mechanisms in place. As to whether the GC will generate true change rather than more lip service, Weiss can only say, "The jury is still out."

A better hope, says Seamus Heaney, is that corporations and individuals see themselves as citizens "From the Republic of Conscience":
When I landed in the republic of conscience
it was so noiseless when the engines stopped
I could hear a curlew high above the runway.
At immigration, the clerk was an old man
who produced a wallet from his homespun coat
and showed me a photograph of my grandfather.
The woman in customs asked me to declare
the words of our traditional cures and charms
to heal dumbness and avert the evil eye.
No porters. No interpreter. No taxi.
You carried your own burden and very soon
your symptoms of creeping privilege disappeared….
Heaney's poem is included in his Introduction to From the Republic of Conscience (2009), a collection of "Stories Inspired by the Universal Declaration of Human Rights."
---
Daybook is contributed by Steve King, who teaches in the English Department of Memorial University in St. John's, Newfoundland. His literary daybook began as a radio series syndicated nationally in Canada. He can be found online at todayinliterature.com.