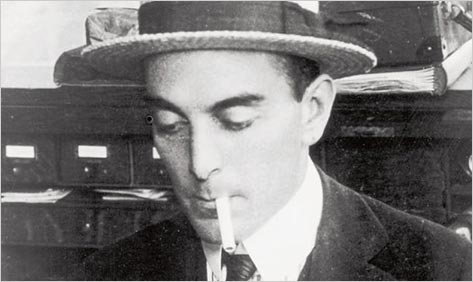 I first read Ring Lardner when I was around twelve. At the time, as I saw it, the most desirable qualities to be found in any book were its being funny and its being about baseball. In this way you can see how Lardner's stories would embody perfection, but a consequence of this was that as I grew older and my tastes broadened (I will not say improved), Lardner remained filed under "terribly funny baseball writer," when in fact he also belongs to another, possibly greater category, "genius of American speech." It is Lardner's ear for and virtuosity with the American language as it was written and spoken by a great body of uneducated people of a vanished era, and the use to which he put that, that now at last come through to me fully as I read the Library of America's just-published Ring Lardner: Stories & Other Writings.

First, just to say what we have here: The book, which runs to almost 1,000 pages with notes and chronology, includes the entire text of You Know Me Al: A Busher's Letters and a large selection of stories including, of course, "Alibi Ike," "The Haircut," "A Caddy's Diary," and "The Love Nest." There are also some instances of Lardner's reporting and a number of sketches and little essays, among which is — of particular interest to students of Lardner — one called "Prohibition." ("Now days according to the law, they ain't no saloons so they can and do stay open as long as they feel like.") There are short plays, song lyrics, and letters: to his wife-to-be, Ellis Abbott, and her parents, to Scott and Zelda Fitzgerald, and one to Maxwell Perkins.

I must speak to the comedy next, for I am still laughing, sometimes merrily, sometimes darkly, as I read. The keys to its effect are Lardner's command of nonsense and non sequitur, his snappy pacing, panache, and sure navigation through lowly speechways, as well as that tried-and-true staple of American humor: making common cause with the reader in knowing better than the small-town provincial or ignorant rube. The most famous example is You Know Me Al, which presents rookie big-league pitcher Jack Keefe's letters back home to "Friend Al." Though raw and, at first, indisposed to fielding his position, Jack has the stuff of a formidable pitcher; his ferocious fastball wins many games. But he is gloriously wet behind the ears, pumped on his own greatness, bragging of his triumphs and blaming his every failure on his teammates or unlucky breaks. He is also stingy: his horror at a needless nickel spent is a thing of beauty. For all his faults, however, Jack is, by the end of the sequence of episodes, a sympathetic character — one, to be sure, in whose ignorance, misunderstanding, and credulousness we revel. Here, in one inspired sentence, Lardner captures the very essence of the rookie's callowness, self-centeredness, and misapprehension: Writing on his first visit to Washington, D.C., where he will pitch against the Senators' Walter Johnson, Jack reports: "They say that Bill Sullivan and Gabby St. once catched a baseball that was threw off of the top of the Monumunt but I bet they couldn't catch it if I throwed it." Even typing that brings joy to my heart.

Lardner makes a comic feast of timeless, tiresome characters known to all of us: the cheapskates and spongers, bores and blowhards, hypocrites, meddlers, practical jokers, and the socially competitive. "The Golden Honeymoon," for instance, begins with what could be a transcript of one of the discourses to which, surely, we have all been subjected on visits to elderly relatives in times past. It is a man's description of his vacation in Florida with his wife of fifty years, starting with an exhaustive account of train times, departures and arrivals, accommodations, amenities, and meals: prices specified in each instance. The names of every person met by chance are given, as are their place of residence, business, begats, and affiliation with fraternal organizations (Rotarians predominating). Though in life the actual experience makes one long for death, this is extremely funny, the banalities and endless pointless details dealt out by a master. Soon enough, however, a rivalry emerges with another couple, and the dark side of human nature is let loose on the page. When, against the odds, the marriage emerges intact and the couple starts home, we are actually relieved when the narrator enters the old groove: "We reached Jacksonville at 7 P. M. and pulled out of there at 8:10 P. M. We reached Fayetteville, North Carolina, at nine o'clock the following morning, and reached Washington, D. C., at 6:30 P. M., laying over there half an hour."

Thanks to television's blanding-out, homogenizing effect, no one speaks the way Jack or Alibi Ike or the rest of Lardner's first-person narrators do. And as for writing: When wz teh last tm u gt a lttr? What we have in Lardner is a representation of America past, not only in material detail — the legal spitter, ballparks without lights, train travel, domestic arrangements — but a representation shaped and brilliantly conveyed to comic effect through spelling, grammar, and syntax. He is master of the malapropism juste, the absent comma, the misspelled homonym.

But Lardner's use of this language was more than high jinks; it was the register in which his irony flourished. In this voice Lardner was most at ease in getting across his acerbic social, ethical, and aesthetic disgust. Its nimble doltishness was also protection, it would seem, against being accused of highfalutin literary ambition, of setting himself up as an artist. His fear seemed to be not that he would be taken for an artist, for he was one in fact, but fear that people who couldn't see that he was, thinking he thought he was. Whether there was a vexed psychological reason for this Michigan-born writer's unease I cannot say, but I can testify that there is a midwestern one.

I leave you with the first paragraph of the wonderfully funny piece "Who's Who." Lardner was in the volume in question, of course, but lest anyone think he thought that a big deal, he gives it (and himself) the full deflating treatment:
Not since I got through with the Telephone Directory has they been a book that gives me so many thrills as Who's Who in America for 1924–25 and have just finished reading same and could hardly lay same down or hold it up either on acct. of it weighing pretty near as much as a grand opera chorus gal. Who's Who is published every other yr. by a guy out in Chi and before the guy goes to press he writes you a letter and asks if the dope on you in the last issue is still O. K. or have you moved or joined any new clubs etc. It looks like the more clubs you belong to the better chance you got of being in Who's Who, so I been joining a new club every couple of months since I came to N. Y. and just before this new Who's Who come out I joined the Friars which give me 11 clubs all told not counting the Cooks and Pastry Cooks assn. of St. Louis which I was made member in 1909 when it was the only place you could get a drink on Sunday.