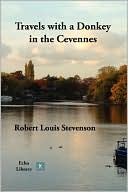 September 22: On this day in 1878, twenty-eight-year-old Robert Louis Stevenson and Modestine began their journey through the hills of southern France. Apart from becoming a nineteenth-century classic in the off-road genre, Travels with a Donkey in the Cévennes (1879) helped to popularize the hiking-camping holiday and the sleeping bag. Of course, all had hinged upon finding the right carrot to encourage the reluctant Modestine to pick up the pace:
What that pace was, there is no word mean enough to describe; it was something as much slower than a walk as a walk is slower than a run; it kept me hanging on each foot for an incredible length of time; in five minutes it exhausted the spirit and set up a fever in all the muscles of the leg. And yet I had to keep close at hand and measure my advance exactly upon hers; for if I dropped a few yards into the rear, or went on a few yards ahead, Modestine came instantly to a halt and began to browse. The thought that this was to last from here to Alais nearly broke my heart…. I tried to tell myself it was a lovely day; I tried to charm my foreboding spirit with tobacco; but I had a vision ever present to me of the long, long roads, up hill and down dale, and a pair of figures ever infinitesimally moving, foot by foot, a yard to the minute, and, like things enchanted in a nightmare, approaching no nearer to the goal.
By the end of the trip Stevenson and Modestine had become such friends that he wept at having to sell her: "Her faults were those of her race and sex; her virtues were her own."
Travels with a Donkey in the Cévennes was Stevenson's second book, and the second of his half-dozen travel books. His first, An Inland Voyage, was based on an 1877 trip with a friend (two-legged) through France and Belgium in a Rob Roy, the canoe-kayak-sailboat invented by a fellow Scot, John MacGregor, about a decade earlier.
---
Daybook is contributed by Steve King, who teaches in the English Department of Memorial University in St. John's, Newfoundland. His literary daybook began as a radio series syndicated nationally in Canada. He can be found online at todayinliterature.com.