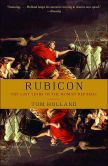 January 10, the seven-hundred-and-fifth year since the foundation of Rome, the forty-ninth before the birth of Christ. The sun had long set behind the Apennine mountains. Lined up in full marching order, soldiers from the 13th Legion stood massed in the dark. Bitter the night may have been, but they were well used to extremes. For eight years they had been following the governor of Gaul on campaign after bloody campaign, through snow, through summer heat, to the margins of the world. Now, returned from the barbarous wilds of the north, they found themselves poised on a very different frontier. Ahead of them flowed a narrow stream. On the legionaries' side was the province of Gaul; on the far side Italy, and the road that led to Rome. Take that road, however, and the soldiers of the 13th Legion would be committing a deadly offence, breaking not only the limits of their province, but also the sternest laws of the Roman people. They would, in effect, be declaring civil war. Yet this was a catastrophe for which the legionaries, by marching to the border, had shown themselves fully steeled. As they stamped their feet against the cold, they waited for the trumpeters to summon them to action. To shoulder arms, to advance — to cross the Rubicon.
–Julius Caesar crossed the Rubicon on this day in 49 BC, sending the Roman Republic into civil war, and on the path to the Roman Empire; excerpted above is the first paragraph of Tom Holland's Rubicon: The Last Years of the Roman Republic
---
Daybook is contributed by Steve King, who teaches in the English Department of Memorial University in St. John's, Newfoundland. His literary daybook began as a radio series syndicated nationally in Canada. He can be found online at todayinliterature.com.