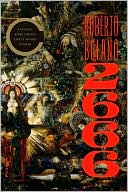 July 15: The Chilean-Spanish novelist and poet Roberto Bolaño died on this day in 2003, aged fifty. Bolaño's 2666, described as his "master statement," was only a first, 900-page draft at his death. Published in 2004, it was an immediate hit in Spanish-speaking countries; when it came out in English translation by Natasha Wimmer in 2008, it won a place on many best-of-the-year lists, and praise as "the first great book of the twenty-first century," sure to earn Bolaño a place, said the Washington Post review, with "Proust, Musil, Joyce, Gaddis, Pynchon, Fuentes, and Vollmann, who push the novel far past its conventional size and scope."
The attempt to rank Bolaño or categorize his unusual books would, at a minimum, amuse him. His first novel, Nazi Literature in the Americas, offers a detailed catalogue of imaginary experimental authors, and his subsequent work is full of literary critics struggling to describe or find writers lost in some generic or literal mystery. One character in 2666 scoffs at readers who choose only the smaller, safer books by the canonized authors—The Metamorphosis but not The Trial, Bartleby but not Moby Dick:
[They] are afraid to take on the great, imperfect, torrential works, books that blaze paths into the unknown. They choose the perfect exercises of the great masters. Or what amounts to the same thing: they want to watch the great masters spar, but they have no interest in real combat, when the great masters struggle against that something, that something that terrifies us all, that something that cows us and spurs us on, amid blood and mortal wounds and stench.
In his acceptance speech for the 1999 Rómulo Gallegos Prize, a Venezuelan award given for the best Spanish-language novel of the year in Latin America or Spain, Bolaño stated that the only real pursuit for a writer is "to know how to thrust your head into the darkness, know how to leap into the void, and to understand that literature is basically a dangerous calling."
---
Daybook is contributed by Steve King, who teaches in the English Department of Memorial University in St. John's, Newfoundland. His literary daybook began as a radio series syndicated nationally in Canada. He can be found online at todayinliterature.com.