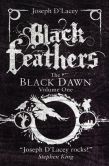 Angry robots! Aren't they all? Well, not the line of fine science fiction and fantasy books that comes to readers under the rubric Angry Robot. In fact, their offerings always seem packaged with an appealing extra measure of excitement, zest, and thrills sometimes lacking with more sedate and long-established publishers.

Here are three of the most recent charming books from the Irate Android.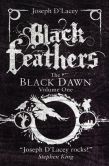 Much like David Mitchell's Cloud Atlas, Joseph D'Lacey's Black Feathers impressionistically weaves together multiple narratives to vividly limn both a contemporary apocalypse and the hard-fought arcadian aftermath, all centering around a shamanistic figure known as the Crowman. In the near term, young Gordon Black, strange and reluctant messiah, lives through the collapse of our civilization, a brutal Wellsian process. Meanwhile, a young woman in the far future, Megan, apprentices herself to Mr. Keeper, one of the elect who keep the Crowman's presence alive as a vital balance to the ever-contending forces of good and evil. The parallel hegiras of both youngsters entertainingly illuminate eternal processes and truths.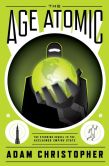 Adam Christopher's debut from 2012, Empire State, proved to be smart, sharp, witty dieselpunk, with an existential twist. Full of over-the-top noir stylings and outrageous heroics and villainy, the book postulated a shadowy doppelgänger to New York City that existed in an alternate dimension dubbed the Pocket. Detective Rad Bradley — think Slam Bradley of Siegel & Shuster Golden Age comics fame — managed to save his universe, but it got untethered from the "real" New York anyhow. Now in the sequel, The Age Atomic, Bradley, along with mysterious new partner Jennifer Jones, must face an army of atomic-powered robots helmed by an evil mastermind who seeks to destroy all creation. It plays like Alan Moore interpreted by Michel Gondry, with President Eisenhower doing the voiceovers.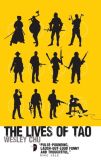 Fans of the Men in Black films will feel instantly at home with the premise of Wesley Chu's swooping roller coaster of a debut, The Lives of Tao. Aliens live in concealment among us, pursuing their rivalrous agendas, and only a select group of humans is in on the secret. But Chu's nifty twist has the aliens living insidethe humans and gaming our entire history. The Quasing are only semi-corporeal and can insinuate themselves into a living host, establishing mental communications and even bodily dominance. One, Tao, is forced into picking schulbby IT guy Roen Tan and then has to manufacture him into the warrior needed to stave off the destruction of humanity. Chu's good-natured adroitness with character development is matched by his thriller-style plotting, a fine blend of gentle humor and sharp suspense.
---

Paul Di Filippo's column The Speculator appears monthly in the Barnes & Noble Review. He is the author of several acclaimed novels and story collections, including Fractal Paisleys, Little Doors, Neutrino Drag, and Fuzzy Dice.