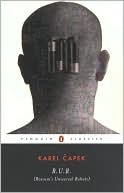 January 25: Karel Capek's R.U.R. openedin Prague on this day in 1921. The play was soon being produced and debatedworldwide, and the coinage "robot"—the play's initials stand for"Rossum's Universal Robots"—soon became the new way of referencing avery old concept. Derived from the Czech word for "forced labor,"Capek's robots begin enslaved but soon rebel, eventually ruling the world,driving their human masters to the brink of extinction and developing some ofthe better human emotions themselves.
Capek returned to thisscenario in War With the Newts, adystopian satire published fifteen years later, as Europe headed into WWII. Thestory describes the discovery of a race of intelligent, industrious salamanderswhich are at first exploited for economic and military reasons, but whicheventually learn to use their indispensability for advantage, revenge, andpower. One of Capek's satiric targets is Nazism—for example, the Germansbelieve that the newts in their colonies are a superior Nordic variant,entitled to more land and power—but few aspects of 20th-century lifeescape him. In Chapter 9, some curious scientists examine a friendly newt namedAndy, who has learned to read the newspaper, and to regard every headline withmindless fascination:
"D'you read the paper often?"

"Yes, sir. Every day,sir."

"And what interestsyou most in it?"

"Police Court news,horse racing, football—"

"Have you ever seen afootball match?"

"No, sir."

"Or ahorse?"

"No, sir."

"So why do you readabout it?"

"Because it's in thepaper, sir."

"You're notinterested in politics?"

"No, sir. WILL THEREBE WAR?"

"No one can tell,Andy."

"GERMANY BUILDS A NEWTYPE OF SUBMARINE," Andy said worriedly. "DEATH RAYS CAN TURN WHOLECONTINENTS INTO DESERT."

"You read that in thepaper, didn't you?" asked Sir Charles….

Andy nodded his head."BUY BRITISH, sir. SNIDER'S BRACES ARE BEST. HAVE YOU GOT YOUR NEWSIX-CYLINDER TANCRED JUNIOR? FAST, CHEAP, ELEGANT."

"Thank you, Andy.That will do."

"WHO IS YOURFAVOURITE FILM STAR?"
---
Daybook is contributed by Steve King, who teaches in the English Department of Memorial University in St. John's, Newfoundland. His literary daybook began as a radio series syndicated nationally in Canada. He can be found online at todayinliterature.com.