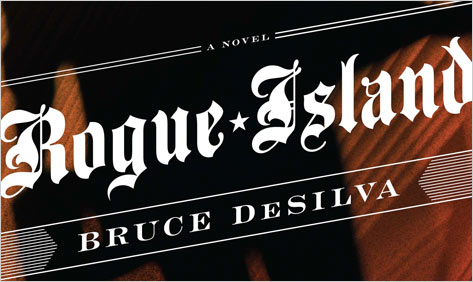 Meet Liam Mulligan, a newspaperman's newspaperman. Mulligan, the tough-talking protagonist of Bruce DeSilva's hilarious and horrifying suspense thriller, Rogue Island, knows everything there is to know about the gritty underside of his beat in Providence, Rhode—"Rogue"—Island. That isn't surprising: Mulligan, the grandson of a murdered Providence police officer, was born and raised there. "I know the cops and the robbers, the barbers and the bartenders, the judges and the hit men, the whores and the priests," Liam tells his girlfriend, Veronica. "I know the state legislature and the Mafia inside out, and they're pretty much the same thing."

Liam Mulligan also knows that the entire city of Providence may soon be at risk as, one building after another, an arsonist is burning down the blue-collar neighborhood Mulligan grew up in. He doesn't yet know who's doing it or why, but, like any good reporter, he wants the story. But Liam also has a few problems of his own. He's got a car, lovingly dubbed Secretariat, that barely runs, a girlfriend who won't sleep with him until he goes for an AIDS test, a half-crazed, estranged wife named—wonderfully—Dorcus, a raging ulcer, and a hopeless Red Sox addiction. Oh, and an editor who wants him to write feel-good dog stories while his city is burning up before his eyes.

DeSilva renders that burning as the product of an absolute evil: "I heard the fire before I felt it, the flames sounding like a thousand flags snapping in the wind. I felt it before I saw it, the heat like a backhand slap from the devil." When the building he grew up in burns down, all Mulligan can say is, "The arsonist was reducing my childhood to ashes."

As Mulligan works to identify the firebug, he's surrounded by an array of colorful and memorable minor characters who lend Rogue Island much of its appeal. These include a 74-year-old numbers racketeer, the city's tree-top-tall woman fire chief, whom Mulligan went to school with, and perhaps best of all, "Thanks-Dad," the likable and surprising heir to Mulligan's newspaper, "the scion of six inbred Yankee families that ran the state for more than two hundred years until the Irish and Italians showed up and took it away from them."

As a bonus, Rogue Island also contains some of the best writing about the embattled newspaper business I've ever read—unsurprisingly, the author is a former investigative journalist and Associated Press editor. Here's Mulligan on the daily routine of an investigative reporter: "You spend long working days listening to idiots drone on at public meetings, getting lied to by cops and politicians, chasing down false tips, having doors slammed in your face, and standing in the rain at 4 a.m. watching something burn. You get it all down in your notebook, every detail, because you can never be sure what might turn out to be important. And then you get drunk and spill a beer on your notes."

Rogue Island is both a first-rate, edge-of-the-seat mystery and a loving evocation of an American city under siege, not by foreign terrorists but—more frightening still—the dark forces of greed and mayhem from within.
---
Howard Frank Mosher is a former judge of the Barnes and Noble Discover New Writer's Award. His latest novel is the Civil War thriller, Walking to Gatlinburg.