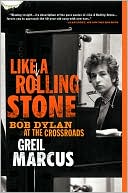 Bob Dylan's "Like a Rolling Stone" was recorded on this day in 1965. Released a month later, the song never made it to the top of the Billboard charts — there it sits at #41 for the year, beaten into catchy-tune submission by the likes of "Wooly Bully," "The Name Game," and three hits by Herman's Hermits — but in the 2004 Rolling Stone poll it was deemed the greatest song of rock's first half century.

Greil Marcus's Like a Rolling Stone: Bob Dylan at the Crossroads (2005) frames the song in multiple ways — as girl trouble, as a bitter anthem for any broken dreamer, as a generational howl sung in the electrified key of change itself. But Marcus also sticks close to the music, providing detailed descriptions of the two days of recording sessions. Day 1-Take 1 starts poorly:
[T]he singer is trying to find his way into his song, plinking notes on the piano. There's a feeling of uplift, dashed as soon as he begins to sing. His voice sounds as if it's just come back from the dry cleaners three sizes too small. He forces a few random notes out of his harmonica.… The organist pushes his way into the music, like a bystander at an accident determined to do something to help….
Other sessions come to dwindling or dramatic stops, few of them getting even to the song's halfway point. And then, Day 2-Take 4, the only time the group finds its way through the full 6:34 and, says Marcus, "the only time the song is found":
At the very start, piano and bass seem the bedrock — but so much is happening, and with such gravity, that you cannot as a listener stay in one place. You may have heard this performance thousands of times but here, as it takes shape, the fact that it does take shape doesn't seem quite real.… There is a moment, just after the first "How does it feel?" when [Al] Kooper's organ, [Mike] Bloomfield's guitar, and [Bobby] Gregg's cymbals come together in a single waterspout, and you can feel the song running under its own power. You wonder: what are the musicians thinking, as this astonishing story, told with such a sensation of daring and jeopardy, unfolds in front of them for the first time?
Dylan was far from unknown before, and he would reinvent himself many times after, but his interviews at the time make clear that he thought he'd found himself: "I'd never written anything like that before, and it suddenly came to me that this is what I should do."
---
Daybook is contributed by Steve King, who teaches in the English Department of Memorial University in St. John's, Newfoundland. His literary daybook began as a radio series syndicated nationally in Canada. He can be found online at todayinliterature.com.