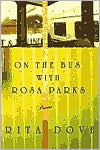 Rosa Parks was arrested in Montgomery, Alabama, on this day in 1955 for not giving up her bus seat to a white passenger. The historic denial is captured in "Rosa," one of the title-sequence poems in On the Bus with Rosa Parks, by former U.S. poet laureate Rita Dove:
How she sat there,
the time right inside a place
so wrong it was ready.

That trim name with
its dream of a bench
to rest on. Her sensible coat.

Doing nothing was the doing:
the clean flame of her gaze
carved by a camera flash.

How she stood up
when they bent down to retrieve
her purse. That courtesy.
* * *
I remember when the ex-Attorney General, Mr. Robert Kennedy, said it was conceivable that in 40 years in America we might have a Negro President. That sounded like a very emancipated statement to white people. They were not in Harlem when this statement was first heard. They did not hear the laughter and bitterness and scorn with which this statement was greeted. From the point of view of the man in the Harlem barber shop, Bobby Kennedy only got here yesterday and now he is already on his way to the Presidency. We were here for 400 years and now he tells us that maybe in 40 years, if you are good, we may let you become President.

Perhaps I can be reasoned with, but I don't know — neither does Martin Luther King — none of us knows how to deal with people whom the white world has so long ignored, who don't believe anything the white world says and don't entirely believe anything I or Martin say. You can't blame them.
James Baldwin died on this day in 1987. The excerpt above is from "The American Dream and the American Negro," an essay published in The New York Times on March 7, 1965. Coincidentally, this was "Bloody Sunday," when 600 participants in the first Selma-to-Montgomery civil rights march were attacked by police. Living in Europe at the time, Baldwin arrived back in the U.S. at the end of the month, in time to join the third of the Selma-to-Montgomery marches.
---
Daybook is contributed by Steve King, who teaches in the English Department of Memorial University in St. John's, Newfoundland. His literary daybook began as a radio series syndicated nationally in Canada. He can be found online at todayinliterature.com.