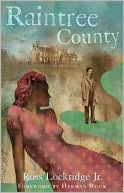 January 4: RossLockridge Jr.'s Raintree County, hisfirst and only novel, was published on this day in 1948. Among those stories ofbooks and authors who belong to the one-hit wonder category, the story ofLockridge and his 1,000-page epic may be the most wondrous, and most tragic. Raintree County was excerpted in Life magazine, made a main selection at Book-of-the-Month and, for"encompassing the American spirit" and being "a brawny poem ofman, history and God (the New York Times), greeted by the first reviewersas the next Great American Novel by the next Thomas Wolfe. And then, afterhaving received a $100,000 award from MGM (the movie eventually made in 1957),and just a day before the novel made #1 on the bestseller list, Lockridgecommitted suicide, aged thirty-three. As the novel had been praised for beingAmerica's poem, now the author was immediately elegized, and given place inhigh literary company; the following is from Pablo Neruda's 1948 poem, "IWish the Woodcutter Would Wake Up," translated here by Robert Bly:
…Melville is a sea fir, the curve of the keel

springs from his branches, an arm

of timber and ship.

Whitman impossible to count

as grain, Poe in his mathematical

darkness, Dreiser, Wolfe,

fresh wounds of our own absence,

Lockridge more recently,

all bound to the depths,

how many others, bound to the darkness:

over them the same dawn

of the hemisphere burns,

and out of them what we are has come.
Through the lens of a single day—July 4th, 1892—Raintree County tells the story of asmall Indiana town and its schoolmaster, elaborated into a story of America andmore:
…Of a quest for the sacred Tree of Life. Of a happy valleyand a face of stone—and of the coming of a hero. Of mounds beside the river. Ofthreaded bones of lovers in the earth. Of shards of battles long ago. Of namesupon the land, the fragments of forgotten language. Of beauty risen from theriver and seen through rushes at the river's edge. Of the people from whom thehero sprang, the eternal, innocent children of mankind. Of their towns andcities and the weaving millions. Of the earth on which they lived—its bluehorizons east and west, exultant springs, soft autumns, brilliant winters. Andof all its summers when the days were long….
---
Daybook is contributed by Steve King, who teaches in the English Department of Memorial University in St. John's, Newfoundland. His literary daybook began as a radio series syndicated nationally in Canada. He can be found online at todayinliterature.com.