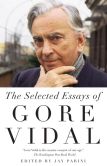 …But it is not only the American ship which is floundering. Nearly half the human beings ever born are now alive, breeding like bacteria under optimum conditions. As a result, the planet's air, water, and earth are being poisoned and used up, and there are those who believe it is already too late to save this ark of fools. Nevertheless, to take the positive view, if war and famine do not soon reduce population…a world authority must be established in order to limit births, while attempting, simultaneously, the restoration in our favor of the planet's ecological balance. Needless to say, this new world order will create a society more repressive than any man has so far endured, and what little if of value in our civilization is certain to be spoiled by the managers. There is something about a bureaucrat that does not like a poem.
Gore Vidal was born on this day in 1925. The excerpt above is from his Preface to Reflections Upon a Sinking Ship (1969), his second collection of essays. Vidal describes the second collection as being "less hopeful" than Rocking the Boat, his first collection; and given the direction he saw America and the world heading, he imagines a posthumous collection of his torpedo essays being titled Submarine.
---
Daybook is contributed by Steve King, who teaches in the English Department of Memorial University in St. John's, Newfoundland. His literary daybook began as a radio series syndicated nationally in Canada. He can be found online at todayinliterature.com.