Of queens and countries.
---
By Stacy Schiff
This Pulitzer Prize-winning biography of the last pharaoh of Egypt attempts to untangle fact from myth, looking beyond the portrayals of Elizabeth Taylor and William Shakespeare to the woman who inspired them. Her fabled love affairs with Julius Caesar and Mark Antony shook the politics of the Mediterranean and ultimately led to the ruin of her kingdom. But this is a queen who can't be defined solely by her relationships to powerful men. Cleopatra (69BC – 30BC) was a shrewd, merciless autocrat in her own right, poisoning rivals, fostering civil war for selfish ends, and capturing the popular imagination along the way — and ever since.
---
The Tigress of Forlì: Renaissance Italy's Most Courageous and Notorious Countess, Caterina Riario Sforza de' Medici
By Elizabeth Lev
In this thrill-a-minute, jaw-dropping life of Caterina Sforza (1463 – 1509), female ruler of the province of Forlì, Elizabeth Lev puts us in the shoes of a Renaissance woman wielding never-before-seen power. During a period of fractious Italian politics, she managed to thrive, prosper, and succeed largely through force of will. Following Sforza from her youth in the Milanese court, through her marriage at the age of ten to the Pope's corrupt nephew, to her husband's assasination — which forced Caterina to negotiate a deadly rivalry with the Borgias by herself — Lev charts a bloody, survivalist career for her heroine that will both appall and inspire.
---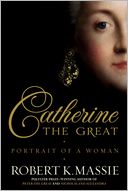 Catherine the Great: Portrait of a Woman
By Robert K. Massie
When the fourteen-year-old daughter of a German prince was brought to Moscow in 1744, she was intended as a vessel in which to cultivate the next heir to the Russian throne. But in this exhilarating biography, Robert K. Massie, author of Nicholas and Alexandra and Peter the Great, tells the story of how young Sophia Augusta Fredericka rose — largely through her intellect and wiles — from this secondary role in the struggles over Russian dynastic power to her epochal thirty-four-year reign as Catherine II (1729 – 1796). This book accomplishes a "feat of magic", in the words of our reviewer, bringing to life in glittering detail a self-created woman who would outwit and outlast her enemies to usher in the Russian Enlightenment.
---
By Alison Weir
Whether she is remembered as "Good Queen Bess" or as a wily manipulator of the world stage, Elizabeth I (1533 – 1603) presided over a period of unprecedented wealth and cultural vibrancy, as England's forays to the New World and its homegrown authors, artists, and playwrights cemented the country's place among the great European powers. Now, acclaimed historian Alison Weir, who has written extensively on the Tudors in works such as The Six Wives of Henry VIII and Mary Boyleyn: The Mistress of Kings, turns her sights to the so-called Virgin Queen. A mesmerizing portrait emerges — not only of Elizabeth but also of her nation, steeped in pageantry and war, court intrigue and extravagance.
---
Isabel the Queen: Life and Times
By Peggy K. Liss
Her patronage of Christopher Columbus and her religious zealotry, which dovetailed with the rise of the Inquisition, have long dominated the picture of the historical Isabel (1451 – 1504). A devoted wife and mother, she was not above mixing the personal with the political, and her secret marriage to King Fernando of Aragón brought success in civil war, consolidated Christian hegemony over the Iberian peninsula, and set the stage for Spain to become a world empire. Liss peers behind the curtain of legend to discover a complicated woman whose devotion to God, country, and personal ambition shaped Europe.