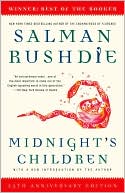 India and Pakistan gained independence from Britain sixty-five years ago today. In his "Tryst with Destiny" speech delivered to the Indian Constituent Assembly on the eve of Independence Day, Prime Minister Jawaharlal Nehru welcomed the event as an emancipation:
At the stroke of the midnight hour, when the world sleeps, India will awake to life and freedom. A moment comes, which comes but rarely in history, when we step out from the old to the new, when an age ends and when the soul of a nation, long suppressed, finds utterance….
Salman Rushdie, born in Bombay two months earlier, took the title for his 1980 novel, Midnight's Children, from Nehru's speech. Rushdie's exuberant, tell-all hero — "Saleem Sinai, later variously called Snotnose, Stainface, Baldy, Sniffer, Buddha and even Piece-of-the-Moon" — was born "handcuffed to history" and destined to yank everybody's chains:
I was born in the city of Bombay … once upon a time. No, that won't do, there's no getting away from the date: I was born in Doctor Narlikar's Nursing Home on August 15th, 1947. And the time? The time matters, too. Well then: at night. No, it's important to be more.… On the stroke of midnight, as a matter of fact. Clock-hands joined palms in respectful greeting as I came. Oh, spell it out, spell it out: at the precise instant of India's arrival at independence, I tumbled forth into the world. There were gasps. And, outside the window, fireworks and crowds. A few seconds later, my father broke his big toe; but his accident was a mere trifle when set beside what had befallen me in that benighted moment….
Midnight's Children won the 1981 Booker (and twice won the "Booker of Bookers," a special prize given in 1993 and 2008 to commemorate the Booker's twenty-fifth and fortieth anniversaries), but Indira Gandhi was offended enough by its political satire to sue, and win. When she visited London for a festival of Indian culture, someone in Margaret Thatcher's office was unaware of this and invited Rushdie, too. Rushdie phoned Thatcher's office to explain why he'd better not attend, but apparently this, like the book, did not get through to the prime minister. The following day, with a stony-faced Gandhi at her side, she glowingly praised Rushdie and his novel.
---
Daybook is contributed by Steve King, who teaches in the English Department of Memorial University in St. John's, Newfoundland. His literary daybook began as a radio series syndicated nationally in Canada. He can be found online at todayinliterature.com.