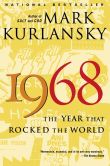 The Soviet invasion of Czechoslovakia began on this day in 1968. As the end of the Prague Spring and the beginning of the collapse of communism, the invasion holds a top spot in any chronicle of "The Year That Rocked the World," as the subtitle of Mark Kurlansky's 1968 puts it. Other events that tumultuous year included the Martin Luther King, Jr., and Bobby Kennedy assassinations, the Democratic National Convention riots in Chicago, the Tet Offensive, the Paris student riots, the election of Richard Nixon, the USS Pueblo incident, Hair….
In a 1997 interview, Yevtushenko recalled his naïve optimism on the day before the tanks rolled into Prague, and his ensuing despair:
I remember we were sitting with my writer colleagues in Crimea, and we were talking about it. I was always an incorrigible idealist — I couldn't be a different man. I don't lose hope even in the most difficult moments. And so I remember I very romantically exclaimed: "This couldn't happen!" And one more experienced writer, who was veteran of the Second World War, he said to me: "Genya, Genya, I envy you. I envy your idealism. Probably now, in this moment when we are sitting and talking about it, Brezhnev's tanks are crossing Czechoslovakian borders." The next morning I heard the radio and I learned that it was true.… I tell you, it was the first time in my life when I was absolutely thinking about committing suicide. And when some people congratulated me on my courage when I sent a telegram of protest, and I wrote up a poem, it was not courage, it was my fear, because I saved myself from committing suicide — otherwise I couldn't live with such a burden on my conscience, if I could keep silent.
Yevtushenko's poem "Russian Tanks in Prague" was picked up immediately on underground radio in Czechoslovakia, making him a hero there and an official target at home:
Tanks are rolling across Prague

in the sunset blood of dawn.

Tanks are rolling across truth,

not a newspaper named Pravda.

Tanks are rolling across the temptation

to live free from the power of clichés.

Tanks are rolling across the soldiers

who sit inside those tanks….

(translation by Albert C. Todd, from Collected Poems, 1952-1990)
---
Daybook is contributed by Steve King, who teaches in the English Department of Memorial University in St. John's, Newfoundland. His literary daybook began as a radio series syndicated nationally in Canada. He can be found online at todayinliterature.com.