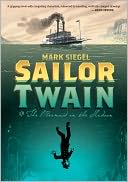 Although Mark Siegel boasts a prior book or three to his credit, I daresay that although they are probably all commendable efforts they never succeeded in bringing his name to the forefront of the ranks of graphic novelists. My own pretty extensive reading in that medium, for instance, previously failed to register him on that mutable catalogue of "creators to follow" that fans are always mentally compiling. But his newest book, Sailor Twain, which he both wrote and illustrated, surely leapfrogs him into that realm. It is exceptionally good, its story being fully the equal of any prose novel of similar scope and ambition, with of course the additional benefit of some gorgeous and sophisticated artwork. That Siegel conceptualized the project and roughed it out over the course of his daily commute alongside the inspirational Hudson River during several years only adds some glamour to his substantial achievement.

The year is 1887, and a big, gorgeous wedding cake of a steamboat, the Lorelei, plies its commercial trade up and down the Hudson, more floating hotel than simple carriage of the waves. Its captain is one Elijah Twain (no known relation to the distinguished author, he avers), a dour and dutiful sort with some deep currents of the soul. Married to the invalided Pearl, whom he seldom sees, as she remains home on land, he harbors secret desires to write and draw. But the springs of his creativity have dried up, and he is wedded to the pocket timepiece that governs his minute-by-minute actions.

On board the boat is a large cast of characters, keenly delineated. Chief among them is the boat's owner, Dieudonné de Lafayette, a ladies' man and hedonist. He reluctantly took over responsibilities for the vessel when his more sober businessman brother, Jacques-Henri, mysteriously disappeared. But now something is troubling Dieudonné's normally gay manner. It's as if he is haunted by an unnatural apparition half-glimpsed — or half-heard.

To shorten Siegel's chambered-nautilus narrative without spoiling it, I will say that Dieudonné has come under the spell of the tutelary mermaid who haunts the Hudson, and that Captain Twain will soon succumb, too, in both a spiritual and physical sense. Twain's secretive, illicit relationship with the fishy being he comes to call "South" will both elevate his sensibilities to ethereal heights and depress them to submarine depths, presenting him with a moral and practical conundrum that will test his ethics and heart.

Siegel's storytelling is top-notch. The book unfolds in a series of incidents both melodramatic and subtle, in a manner more fittingly Victorian than twentieth-century, alternating big reveals and lapidary touches. And although the book is, overall, a tragedy, humor and irony are plentiful. Siegel artfully employs foreshadowing and parallels, antitheses and resonances among characters and actions that elevate his story into satisfyingly allegorical and symbolical pastures. Just one instance: consider that the two rivals for Captain Twain's affections, South and Pearl, are both constrained from walking — South by her tail and Pearl by her crippled legs. Such novelistic touches are all too seldom found in graphic narratives.

And Siegel's expert prose is matched by his superb artwork. His uncolored pencils and charcoals include a vast variety of line weights and shadings that beautifully convey everything from rain and smoke to wood and stone, fish scales and female skin. His research into the era of his story is reflected gracefully but not overbearingly in small details and large set pieces. But it's perhaps his character designs that delight the eye and imagination most. Captain Twain himself has a kind of Raggedy Andy simplicity to his features, which contrasts intriguingly with the more naturalistic representations of Dieudonné and others. (I think we're meant to imagine Twain as that Euro adventurer Corto Maltese.) Sometimes there's a Peter Kuper expressionistic flavor to the drawings as well. But Siegel reserves his highest, warmest artwork for all the women in the tale, not only our sensuous mermaid but also the enigmatic author Camomile Beaverton. (And is it only my imagination, or does the torch singer Ella Wylie deliberately resemble Barbra Streisand?)

Siegel's panel compositions are varied and conducive to a nice flow of reading. Full-page spreads are always justifiably bold. Wordless panels are used both to conjure atmosphere and convey information. Maps and newspaper reproductions add to the flavor. Yet the reader never gets a sense of an artist showing off mere technique. It's all in good service to the tale, which, like the Hudson itself as characterized by Dieudonné in Part II, Chapter 4, exerts a mystical attraction.

Lastly, readers should be aware that while First Second has generally published purely YA books, this volume contains visuals and language that make it fit for a more mature audience.
---

Paul Di Filippo's column The Speculator appears monthly in the Barnes & Noble Review. He is the author of several acclaimed novels and story collections, including Fractal Paisleys, Little Doors, Neutrino Drag, and Fuzzy Dice.