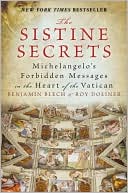 The Sistine Chapel opened on this day in 1483, its magnificent new frescoes, eight years' work by Botticelli and other leading Florentine artists, on display for Mass. A quarter century later, Pope Julius II lured Michelangelo from Florence to Rome to extend the chapel artwork from walls to ceiling; he completed his work 500 years ago this year.

The restoration of the Michelangelo frescoes, completed in 1994, provoked a still-heated argument among historians regarding the artist's original techniques and colors. The most recent chapter in that debate goes well beyond restoration into a revisionist view of Michelangelo's original intentions. In The Sistine Secrets (2008), Benjamin Blech and Roy Doliner argue that, with the grime of centuries swept away, we can now see that Michelangelo included many "forbidden messages" in his biblical artwork. Some of these coded, symbolic statements are anti-pope, many are anti-Catholic and pro-Jewish — for example, the authors see the tree of life not as an apple tree but a fig tree, as in ancient Jewish tradition — and all represent a "lost mystical message of universal love."

The revisionist interpretation of the Sistine ceiling has been dismissed by some art historians as merely another application of "the Dan Brown syndrome." What we incontestably know, and from Michelangelo's own poetry — yes, the Renaissance giant was also a poet, some 300 poems extant — is that painting the ceiling was backbreaking. In "When the Author Was Painting the Vault of the Sistine Chapel," a 1509 poem sent to his friend Giovanni da Pistoia, Michelangelo says that the ceiling work is more agony than ecstasy, and that he'd rather be chiseling marble:
I've already grown a goiter from this torture,
hunched up here like a cat in Lombardy
(or anywhere else where the stagnant water's poison).
My stomach's squashed under my chin, my beard's
pointing at heaven, my brain's crushed in a casket,
my breast twists like a harpy's. My brush,
above me all the time, dribbles paint
so my face makes a fine floor for droppings!
My haunches are grinding into my guts,
my poor ass strains to work as a counterweight,
every gesture I make is blind and aimless.
My skin hangs loose below me, my spine's
all knotted from folding over itself.
I'm bent taut as a Syrian bow.
Because I'm stuck like this, my thoughts
are crazy, perfidious tripe:
anyone shoots badly through a crooked blowpipe.
My painting is dead.
Defend it for me, Giovanni, protect my honor.
I am not in the right place — I am not a painter.
(translation by the American poet Gail Mazur)
---
Daybook is contributed by Steve King, who teaches in the English Department of Memorial University in St. John's, Newfoundland. His literary daybook began as a radio series syndicated nationally in Canada. He can be found online at todayinliterature.com.