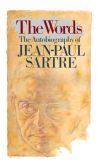 Jean-Paul Sartre was born on this day in 1905. As described in The Words, Sartre's childhood was fatherless, coddled, and closeted, a period during which playmates and rambles were happily exchanged for his grandfather's library, where "I found my religion":
I disported myself in a tiny sanctuary, surrounded by ancient, heavy-set monuments which had seen me into the world, which would see me out of it, and whose permanence guaranteed me a future as calm as the past.… I was a daily witness of ceremonies whose meaning escaped me: my grandfather — who was usually so clumsy that my grandmother buttoned his gloves for him — handled those cultural objects with the dexterity of an officiant…. At times, I would draw near to observe those boxes which slit open like oysters, and I would see the nudity of their inner organs, pale, fusty leaves, slightly bloated, covered with black veinlets, which drank ink and smelled of mushrooms.
Among those attracted to Sartre's politics and philosophy was Françoise Sagan, born on this day in 1935. Sagan leapt to literary fame while still a teenager with her international bestseller Bonjour Tristesse (1954). Succeeding novels and plays, combined with her good looks and fast-paced bohemian-chic lifestyle — a near-fatal accident in her Aston-Martin, an arrest for cocaine — made Sagan one of the most visible and popular postwar writers in France, though some labeled her "the Bardot of literature" and "a luxury hotel existentialist." In her "Love Letter to Jean-Paul Sartre," published in honor of his seventy-fifth birthday, she itemizes the qualities which made Sartre the intellectual hero of midcentury France:
[Y]ou have always leaped into the fray to defend the weak and the oppressed; you have had faith in people and causes and in truths.… You have consistently rejected any idea of distinction or material benefits for your achievement. You refused the supposed honor of the Nobel Prize when you had nothing. You were knocked down three times by terrorist bombs…. You have not clamored for justice because you do not wish to make judgments…. You have often preferred to be used and duped rather than to remain indifferent, and often to be disappointed rather than to deny hope. What an exemplary life for a man who never sought to set an example!
---
Daybook is contributed by Steve King, who teaches in the English Department of Memorial University in St. John's, Newfoundland. His literary daybook began as a radio series syndicated nationally in Canada. He can be found online at todayinliterature.com.