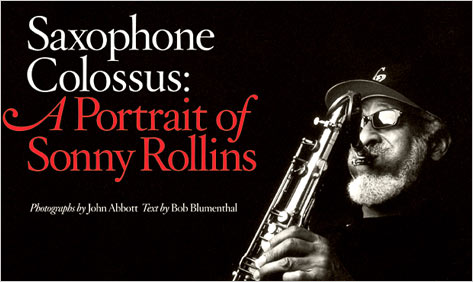 Executing the impossible—spontaneously sculpting cogent, poetic musical architecture on the tenor saxophone while navigating the high-wire of performance night after night—is the operative trope of Sonny Rollins's astonishing career.
At his finest moments, Rollins attains the artistic grail of transmuting highly abstract rhythmic and harmonic ideas into a stream of pure melody, as though Louis Armstrong had switched from trumpet to saxophone and absorbed into his consciousness the last sixty-five years of jazz vocabulary. Rollins is the most Proustian of improvisers, able to summon deeply embedded fragments of musical memory at incredible speed, instantly morphing them into eloquent, stunningly rendered theme-and-variation declamations. These he develops like a cubist painter, exploring motifs from every conceivable angle, imbuing his phrases with vivid splashes of timbre at the fastest tempos. He delivers his inventions with an immense, speech-like tone, traversing the saxophone's entire registral span, roaring like a lion at one moment, crooning like an Irish tenor the next. His time is both unerring and elastic, his sensibility romantic yet devoid of bathos, his musical jokes what some would call sardonic. A palpable warmth and humanity comes through on every beat. Honesty, too—you can hear Rollins thinking, struggling to find inspiration, and, when it appears, riding the wave as only he can do.
After a lifetime of bending into his horn, Rollins walks with his torso tilted at a pronounced forward angle. But as he approaches his eightieth birthday (he'll celebrate at the 2900-seat Beacon Theater in Manhattan, a smaller room than he customarily performs in, three miles south of his childhood home in Harlem), his personal charisma continues to match his outsized tonal personality.
These ineffable qualities come through clearly in Saxophone Colossus: A Portrait of Sonny Rollins, a collaborative work by photographer John Abbott and jazz journalist Bob Blumenthal, titled for the honorific cognomen that Prestige Records applied to a now classic five-track LP that Rollins made in 1956 with pianist Tommy Flanagan, bassist Doug Watkins, and drummer Max Roach. Inspired by photojournalist David Douglas Duncan's endeavor in The Private World of Pablo Picasso to capture his subject's essence through the pictorial evocation of his quotidian activity, the authors mirror the album's five tracks with a succinct five-chapter text that, as Blumenthal writes in the preface, "gives shape to what I hear, and what John sees, in all of Sonny Rollins' music."
Don't look for irony or social comment: the authors are far more concerned with illuminating Rollins's personality than calling attention to their own.
Culling from two decades worth of Rollins projects, Abbott juxtaposes high-gloss color shots in the Irving Penn-Richard Avedon style with informal color and black-and-white photos of Rollins on stages and in rehearsal studios, in dressing rooms and at home—performing, practicing, relaxing, traveling, and mingling. He uses light in a painterly way, never allowing technique to overshadow the imperative of capturing the nuances of facial and figurative gesture, of Rollins's idiosyncratic sartorial style and his command of any space he occupies.
In bracing contrast to Abbott's impressionistic imagery, Blumenthal's text is a succinct elucidation of Rollins's musical voice—"warm but caustic, with the sonic heft and harmonic ambition of [Coleman] Hawkins plus a boldness and wit all his own"—that will repay multiple readings. Over the course of perhaps 10,000 words of clearly-written, tightly-argued exegesis, he offers detailed descriptions of Rollins's singular rhythmic concept, heroic sound, and choice of repertoire; positions him in the context of his antecedents and contemporaries; and traces his youthful struggles with drugs and subsequent bouts of aesthetic self-doubt.
Although the visual narrative begins in 1988, Blumenthal—perhaps for reasons of space—devotes all but the final six paragraphs to the '50s, dismissing Rollins's in-studio musical production after 1972 as "pale against the memory of more volcanic concert creations." It's hard to argue the point. Still, Rollins's own intentions have evolved, and such '90s albums as +3 and Old Flames, both reuniting him with Tommy Flanagan, and This Is What I Do and Sonny, Please, from the '00s, are accomplished encapsulations of his mature style. As Rollins once told me, "I'm surely very honored that a lot of my fans think that one period puts me up there with great people and all that, but to me it's always been trying to get to It, and It is a thing which is alive and is fluid."
These criticisms are more quibbles for the jazz-obsessed than the general listener. Saxophone Colossus is an artistic response to Rollins that does him full justice. You can fill in the gaps with Eric Nisenson's biography, Open Sky: Sonny Rollins and His World of Improvisation, in which Rollins is a first-person participant. If both books whet the appetite for an authoritative memoir or a deep-research biography on the scale of Robin Kelley's Thelonious Monk: The Life and Times of an American Original, it must be said that they more than suffice for now.