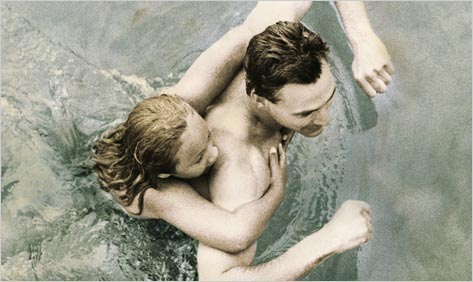 Amity Gaige's Schroder is a triumph of voice. Part road trip escapade, part liar's lament, this absorbing, expertly crafted book takes the form of a self-serving but moving apologia written in an Albany jail cell by an untrustworthy but genuinely heartbroken father and ex-husband with astonishingly bad judgment. Filling hundreds of pages while seated on a stool that is "kindergarten short and dented like an old cookie sheet," he attempts to explain to his ex-wife why he absconded with their six-year-old daughter during his court-sanctioned weekly visit, precisely what happened during the seven days they went AWOL, and why he isn't who she thought she married.

Ordinarily, I'm about as keen on road trip novels as I am about driving — so I nearly made the mistake of leaving Schroder by the wayside. Of course I recognize the usefulness of a narrative device that literally keeps the action rolling and provides a world apart for its traveling characters. But with the notable exception of Nabokov's clever cross-country cat-and-mouse chase in Lolita, to which Schroder bears some resemblance, my response to such tales is often to feel trapped — in-car-cerated — and motion-sick long before new emotional borders are crossed.

There's nothing tedious or overly programmed about Schroder, however. By throwing a case of custodial kidnapping and assumed identity into the front seat, Gaige picks us up with her opening line — "What follows is a record of where Meadow and I have been since our disappearance. My lawyer says I should tell the whole story" — and refuses to drop us off until we've reached her devastating destination. Schroder's deeply flawed narrator may have exhausted his wife's sympathy, but, remarkably, through Gaige's nuanced portrait, he manages to win ours. To a point.

If the outline of Schroder sounds vaguely familiar, that's because the much-publicized Clark Rockefeller hoax was a source of inspiration. You may recall the sensational case in which German-born Christian Karl Gerhartsreiter assumed multiple aliases — including, most notably, that of a Rockefeller — to secure a toehold in American society. After his breadwinner wife, a Harvard M.B.A. and successful business consultant, filed for divorce, he went on the lam with their daughter in July 2008, was eventually convicted of parental kidnapping, and has since been indicted for a 1985 murder in Los Angeles. His story was the basis for a television movie, Who Is Clark Rockefeller?, and Mark Seal's 2011 nonfiction book, The Man in the Rockefeller Suit.

Gaige's narrator, too, is an unreliable fraud who tries to leave behind his troubled German history in favor of a more promising American future. But, as in her two previous novels, The Folded World (2009) and O My Darling (2006), her focus is domestic, and specifically on marital strain and pain. What lifts Schroder above its essentially maudlin plot is its sure-footed prose, psychological acuity, and moral subtlety.

One way of looking at Schroder is as a story about passing. Instead of trying to pass for white — as Coleman Silk does in Philip Roth's The Human Stain — Gaige's protagonist, born Erik Schröder (with both a k and an umlaut) in East Berlin in 1970, tries to pass for an American with a famous last name and a sunnier background than his own. That initial deception, grounded in colossal insecurity and a desire to belong, engenders a lifetime of compounding lies.

The central trauma of Schroder's life occurred in 1975 when he and his electrician father managed to escape to West Berlin — without his mother. Why? Was she dead? The truth was in fact so painful that both he and his father had an unspoken pact never to talk about it, even after they emigrated to bleak Dorchester, Massachusetts, in 1979. Gaige conjures a remarkable image, one of many in this novel, to describe the disconnection engendered by that transatlantic voyage: "The yolk of my heart came loose."

Young Erik's father dropped the umlaut but never bothered with naturalization. Erik, tired of being an outsider, took matters into his own hands as a teenager, creating a secret new identity in order to apply for a scholarship to an idyllic New Hampshire summer camp. He chose for his new surname that of the most famous "Berliner" — Kennedy — and invented a bucolic childhood on Cape Cod in a fictional enclave near Hyannis Port. As with racial passing, Schroder's transformation into Eric Kennedy ultimately necessitated a clean break from his past, including his reticent, distant German father.

Eric's imagined American childhood is a teenager's simple fantasy — yet it's one he's stuck with for decades, emblematic of his arrested development. Only in his desperation not to lose his adorable, wise daughter does he risk exposing his secret.

A key to Gaige's novel lies tucked in Schroder's assessment of the American family court system, filled with millions of despairing men and women waging custody battles. They're all deranged, he says, "Because, of course, there is one thing that really deranges us, and that is the disappearance of love." Three themes that connect Schroder's childhood and adulthood are the unbearable pain of lost love, "[h]ow abandonable a child is," and the excruciating eloquence of silence.

Schroder is by turns a terrifically fun and dangerously negligent father. Easily distracted from his daughter by his own narcissistic needs, he repeatedly loses focus, endangering his sweet "Butterscotch." He brings her to a "church where everyone was crying" — an AA meeting! — and, most horrifically, actually starts to stow his sleeping child in the trunk of his Mini Cooper (stolen from a friend) with the idea of escaping to Canada. Yet we come to understand the source of his failings — and, most movingly, to believe that he truly loves his daughter.

How convincing is Schroder's "pall of regret"? He's motivated by desperation to see Meadow again, but, as he reminds us, he's also driven by "a legal obligation to humanize myself. For my own defense." Could he really have believed, "right up to the moment when I saw myself on TV — that I had not 'kidnapped' Meadow but that I was merely very, very late to return her from an agreed-upon visit"? Is it possible to accept his argument that his "spontaneous field trip" with his sweet, trusting little girl was a "wrong thing…done in the service of rightness" and that, anyway, all childhood is in a sense an "involuntary adventure" embarked upon without consent?

Schroder naturally invites us to think about other stories involving unmoored, unreliable, often divorced parents who take their trusting, skeptical, wise, and often bewildered children on the road with them: Mona Simpson's Anywhere but Here springs to mind, as does the 1973 Peter Bogdanovich movie, Paper Moon, starring Ryan O'Neal as a con man and his daughter Tatum O'Neal as his adorable albatross turned sidekick. When it comes to the annals of divorce, few offer a more fascinating, split picture than the Wolff brothers' memoirs: Tobias Wolff's This Boy's Life, about his peripatetic childhood with their mother, and Geoffrey Wolff's The Duke of Deception, chronicling his experiences with their father, an inveterate con man who falsified everything — except his paternal devotion. As in Schroder, one heartrending lesson from all these narratives is that even a deeply flawed parent can be a loving one.