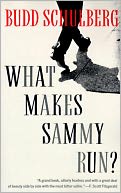 Budd Schulberg was born on this day in 1914. Schulberg's career as a screenwriter yielded one of Hollywood's most memorable lines, Marlon Brando's "I coulda been a contender…" (On the Waterfront). Schulberg's earlier career as a novelist yielded a line equally famous, coined to express a veteran reporter's head-shaking wonder at the determination of the young hustler Sammy Glick:
Sometimes I used to sit at the bar at Bleeck's, stare at the reflection in my highball glass and say, "Al, I don't give a goddam if you never move your ass off this seat again. If you never write another line. I default. If it's a race, you can scratch my name right now. Al Manheim does not choose to run." And then it would start running through my head: What makes Sammy run? What makes Sammy run?
What Makes Sammy Run? was a controversial hit when it appeared in 1941, its indictment of the me-first amorality prevalent among the American business class both praised as a corrective and denounced as unfair. In an afterword written for an edition a half century later, Schulberg recalls the chill he felt when, during his speaking tours of college campuses, he began to realize that a new generation of reader-entrepreneurs were treating his backstabbing hero "as if he were a positive guide to their futures onwards and upwards":
In the closing lines of What Makes Sammy Run? I had described his meteoric career "as a blueprint of a way of life that was paying dividends in America in the first half of the twentieth century." Well, with our takeover artists, our inside traders, our Ivan Boeskys and Mike Milkens, our Ollie Norths, our college football heros on the take from filthy rich alumni…all signs point to even bigger dividends for the Sammy Glicks in the remainder of this century, and on into the next. The book I had written as an attack on antisocial behavior has become a how-to book on Looking Out for Number 1. Change that line of the old hymn to read, "America, America, God shed His grace on me."
---
Daybook is contributed by Steve King, who teaches in the English Department of Memorial University in St. John's, Newfoundland. His literary daybook began as a radio series syndicated nationally in Canada. He can be found online at todayinliterature.com.