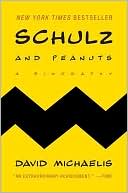 The first Peanuts comic strip was published on this day in 1950. For the next half century, Peanuts ran daily in thousands of newspapers around the world, making it "arguably the longest story ever told by one human being" (media scholar Robert Thompson).

That story is an intensely personal one, says David Michaelis in Schulz and Peanuts (2007), the first major biography of the cartoonist. Apart from his often-repeated opinion that the Peanuts title, forced upon him by his publishers, was confusing and belittling, Charles Schulz dodged commenting on his characters and themes. But Michaelis notes that Schulz at least opened the door to a biographical reading of his work with his acknowledgement that a longtime follower of the cartoon could find the cartoonist within.

As running (and entertaining) proof, Michaelis interweaves his between-the-panels commentary with some 250 Peanutsstrips, creating a double history and a parallel portrait. As the shy and socially awkward Schulz dared to ask Joyce Halverson, his eventual first wife, out on a skating date, so Charley Brown ventures forth with Violet:
When we get to the rink, will you skate with me, Violet?

You must like me a lot to want to skate with me, Charlie Brown…

Well, I guess so… But what I really want is someone to hang onto!
In 1969, with their twenty-year marriage itself on thin ice, Schulz and his wife opened a skating rink in their hometown of Santa Rosa, California. The rink had a Warm Puppy café and other touches of Peanuts love, but "the arena's First Couple could not rekindle their passion." Typically, says Michaelis, Schulz "assigned it to Snoopy to enact with Lucy the dramas playing out between Joyce and himself":
I'm going to have to find another skating partner… Ah! That dark-haired lass looks like she might be interesting… I'll approach her in the time-honored custom. How about a skate, sweetie?

GET AWAY FROM ME, YOU STUPID BEAGLE!!

I approached her in the time-honored custom, and I was turned away in the time-honored custom…
Although never far from the fear that some football or other would be pulled out from under him, the cartoonist found a cushion for his anxieties in his second marriage. Whether from its creator's contentment or old age, the cartoon suffered, says Michaelis: "What had once been a masterfully played chess game, a continually renewed power struggle between Lucy and each of the other characters, became a world-weary exercise in filling white space."
---
Daybook is contributed by Steve King, who teaches in the English Department of Memorial University in St. John's, Newfoundland. His literary daybook began as a radio series syndicated nationally in Canada. He can be found online at todayinliterature.com.