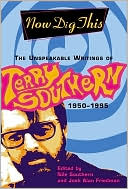 On this day in 1969 Bobby Seale gave the tumultuous sixties one of their most iconic images when he was bound and gagged during the trial of the Chicago Eight (subsequently, Chicago Seven). Terry Southern, who died on this day in 1995, was a witness at the trial, testifying for the defense about the chaotic events surrounding the 1968 Democratic National Convention in Chicago — the events that would cause Seale and the others to be brought to trial for conspiracy, inciting to riot, and other charges. Southern's "Grooving in Chi," first published in Esquire (November 1968) and now regarded as a classic of New Journalism, proceeds chronologically through the four days of stare-downs and beat-ups, jumping from one counterculture moment to another:
Witnessed an amusing, and perhaps historic, confrontation this P.M. when in the lobby of the Hotel Drake, we chanced across a dramatic encounter between Louis ("I have nothing to hide") Abolafia, the nudist-ticket candidate, and testy Babe Bushnell who's running on the S.C.U.M. (Society for Cutting Up Men) ticket, whose founder, it might be recalled, tried to assassinate Andy Warhol….

I talked with Ed Sanders at the park this afternoon. The Yippies have brought a pig, which they are going to try to place in nomination if they can ever get near the hall. The pig is pink, and weighs about a hundred pounds. They keep it in a burlap bag.

Tonight we went to the L.B.J. Un-Birthday Party at the Chicago Coliseum. It was a swinging affair, with a groovy audience who responded very enthusiastically when our brutality statements, prepared earlier in the day, were read to them.

Tonight's scene at the park was certainly the strangest yet. About one hundred priests were there, having earlier announced that they would conduct an all-night religious service. A large cross (about ten feet high) had been erected, and several fires burned nearby. The pattern of events was identical to what had transpired on the previous evenings. Only the presence of the cross, after the smoke and tear gas came rolling in, slowly engulfing it, lent the spectacle an unreal and cinematic quality…..
Southern's article is included in Now Dig This, a 2002 collection of his writings edited by his son, Niles, who compares the experience of going through his father's manuscripts to "fishing a sea of historical crosscurrents": "From Cocteau to Caspar Weinberger, Abbie Hoffman to the CIA, every hot-house issue in the public sphere is given ventilation — from the coolest of blowers."
---
Daybook is contributed by Steve King, who teaches in the English Department of Memorial University in St. John's, Newfoundland. His literary daybook began as a radio series syndicated nationally in Canada. He can be found online at todayinliterature.com.