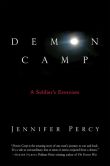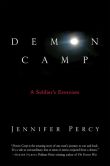 Dear Reader,
Language. Character. Story.
It's the artful union of those three elements that we look for in Discover Great New Writers selections. Done well, at the very least, the language-character-story combination transports or teaches, and at the extreme, it transforms the reader.
We're still talking about Jennifer Percy's striking debut, Demon Camp: A Soldier's Exorcism, in the Discover reading room, months after we knew it had made the cut for our Spring 2014 list. Percy's blazingly original reportage — an investigation of PTSD as much as poverty, identity and faith – was a bar against which subsequent submissions were judged.
We're not the only ones raving about Demon Camp: Michelle Huneven, Dexter Filkins and Claire Vaye Watkins are just some of the notables lauding Percy's debut. Lea Carpenter, author of Eleven Days, raises an eloquent comparison in The New York Times Book Review: "Her proper literary predecessor is Let Us Now Praise Famous Men, James Agee's 'inquiry into certain normal predicaments of human divinity.' Agee redefined perceptions of poverty in America and the limits of liberalism, of new deals; Percy's portrayal of Portal, Ga. ('where the layer between heaven and earth is very thin'), and its Pentecostal fringe questions current correlations of these things. Agee placed himself inside his story, too. He forced readers to ask, Whom are we leaving behind? And then, Wait, who is 'we'?"
We're terrifically pleased to run "Second Language", an original guest post by Jennifer followed by a conversation in which she discusses the language of trauma – and hauntings – and the book that stands as a reminder that, as Jennifer says, nonfiction "can and should be held to the same literary standards as fiction", among other things, with Discover Great New Writers.
Second Language

A Guest Post by Jennifer Percy

Charlemagne, the Holy Roman Emperor, declared that "to have a second language is to have a second soul." When I met the protagonist of my book, Sergeant Caleb Daniels, I wondered if he had taken on a "second language" for this same reason. I met him in Georgia in 2008 and he communicated to me an entire narrative of the wars in Iraq and Afghanistan using the language of religion.

If ordinary language fails us after a traumatic event, which it so often does, then what is the language of trauma? I wondered about the correlation between specter and traumatic event.

It seemed to me that summer that certain terrible stories morphed once they hit American soil, because the war did not belong in America, as far we were concerned. One of the veterans I wrote about in my book, a soldier named Brian Rand, encountered a dead Iraqi man at his home in North Carolina. And then there was the war, knock, knock, knocking at his door. The ghost was some version of the Iraqi man he killed. Brian never knew this man, but the ghost gave him an opportunity to apologize.

The trauma of witnessing the death of this Iraqi by his own hand worked its way into Brian's language, and he created a system of signs to communicate such horror. It is a pantomime—a conversion–of Brian's original trauma.

Later Brian told his sister that he believed he was a vampire. How do we make sense of a man believing himself to be a vampire? Why is it necessary for Brian? Well, Brian saw many of his close friends die. They kept dying but he stayed alive. Brian knew vampires were immortal creatures. The narrative clicked.

The protagonist of my book, Sergeant Caleb Daniels, a machine gunner for the 160th Aviation Regiment Night Stalkers, believed a demon known as "The Black Thing" followed him home from the war in Afghanistan.

The Black Thing has a purpose: to kill Daniels. This makes sense, narratively, because Daniels was the lone survivor of a terrible Chinook crash in the Hindu Kush.

The war wants him to die. But his dead friends fight the Black Thing to keep Daniels alive.

Such shocking post war narratives are nothing new. One of the most unexpected pleasures of writing this book happened to be going through old medical journals from WWI, a time when no one yet understood the cause of PTSD. There were more traditional ghost stories, but there were also conversion stories. I came across this anecdote in a book called Neuropsychiatry of WWI: M.H. a prisoner of war, believed he had a compact with devils, and that he had broken this pact, and so the devils entered his body. He reported this: One day while going to the bathroom one of the devils entered into him and lodged in his right testicle. To get rid of the devil, the soldier cut off his testicle and threw it away.

In another record, a soldier believed he was the Almighty. Another believed he was king. And in another, the soldier believed his wife was a princess detained by enemies.

Susan Sontag wrote in her book Illness as Metaphor that "trying to comprehend 'radical or 'absolute' evil, we search for adequate metaphors." — Jennifer Percy
Your book examines the epidemic of suicide among veterans of the wars in Iraq and Afghanistan by delving into personal stories—notably that of one former sergeant, a troubled veteran whom you call Caleb Daniels. What got you started on this project?
JP: It began with an article I read in the McClatchy Report about a young soldier who committed suicide after he believed he was being followed night after night by the dead Iraqi man he killed. I called up the soldier's sister and she started telling me about the haunting. The conversation completely defamiliarized my understanding of PTSD. She told her story without relying on a prescribed vocabulary—a vocabulary divorced from politics and psychiatry. I was used to a different conversation about PTSD because, like most people, I only knew what the media was telling me.
Caleb brings you into an evangelical community in Portal, Georgia, that promises people deliverance from their "demons." The question of what demons really are hovers over the narrative—whether, in the eyes of this community, demons are actual beings or merely a way of describing trauma.
Absolutely. To the people I met in Portal, the demons are literal. To anyone who doesn't believe in demons, they talk in perfect metaphors of war and illness. For Caleb, and for the veterans who did manage to find comfort in the world of deliverance, it gave them a way to talk about the war in the context of religion.
In the book, as you get deeper into reporting the story, it becomes increasingly difficult to discern what is real from what your characters imagine to be real. Does this mirror your own personal experience?
I hope that it mirrors Caleb's experience, or at least gives us a taste of what it might be like to feel haunted, by war and by our past. In terms of mirroring my own experiences, I did begin to fear my imagination and its power. But that's not to say I couldn't distinguish it from reality. The worlds our imagination creates are seductive ones. I also think that to assume that we know what's real and what's not is already a stance of ignorance. To question everything—to interrogate our own reality—is important. Of course, it's also a dangerous task. Questioning breaks things apart and creates new ways of seeing–and sometimes we don't like what we find.
What was your writing experience like?
Once I found a structure for the book, it wasn't hard. I tend to write in the manner of a collagist—a more raw and impressionistic style—and then go back and add the connective tissue. It was certainly difficult to process the narrative without some space between myself and the experience, but I suppose that's true for most writing. It took a long time, for example, to process the way I sometimes reacted to deliverance because I didn't believe in it—not in any intellectual way. Yet I was having an emotional, almost primitive reaction. And, from beginning to end, Caleb reminded me that a demon didn't want me to write the book. Sometimes when I was transcribing notes or reworking scenes, I'd turn on a few extra lights in the house.
Who have you discovered lately?
I'm in love with the work of James Salter. I always have one of his books by my side. Sometimes I'll just read a few paragraphs of his work and I'll feel nourished. I'm reading Behind the Beautiful Forevers by Katherine Boo, which is a great testament to the way nonfiction, despite subject matter, can and should be held to the same literary standards as fiction.
[Behind the Beautiful Forevers was a Spring '12 Discover pick and finalist for the Discover Award that year. –Ed.]
---

Miwa Messer is the Director of the Barnes & Noble Discover Great New Writers program, which was established in 1990 to highlight works of exceptional literary quality that might otherwise be overlooked in a crowded book marketplace. Titles chosen for the program are handpicked by a select group of our booksellers four times a year. Click here for submission guidelines.