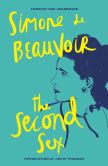 Simone de Beauvoir was born on this day in 1908, and on this day in 1949, her forty-first birthday, she delivered Volume One of The Second Sex to her publisher. In her Introduction, de Beauvoir speaks of writing The Second Sex as a kind of second birth, if not an act of self-conception. Specifically, she wished to examine her relationship to Jean-Paul Sartre, which had led some to cartoon her as little more than "Notre Dame de Sartre." More generally, she wished to examine her relationship to men:
I began to reflect all about myself and it struck me with a sort of surprise that the first thing I had to say was "I am a woman."…. I had not yet decided that the lot of woman was inferior to the allotment of men in this life. But somehow I was beginning to formulate the thesis that women had not been given equality in our society, and I must tell you that this was an extremely troubling discovery for me.
As described in her volumes of autobiography, de Beauvoir lived at the center of French social and intellectual life. In The Prime of Life, covering the pre-WWII years, she tells of first meeting Jean Genet, a new writer who "reminded one irresistibly of the Poet with a Mission":
We were told he was now out of prison; and one afternoon in May, when I was at the Flore with Sartre and Camus, he came over to our table. "You Sartre?" he inquired brusquely. With his close-cropped hair and thin, tight lips and suspicious, rather aggressive expression, he struck us as a pretty hard case. He sat down, but stayed only a moment. But he came back on other occasions, and we saw a good deal of each other…. One evening we went up to the penthouse terrace of my hotel, and I showed him the view over the neighboring rooftops. "What the hell am I supposed to make of that?" he asked me testily, and went on to remark that he was far too busy with his own reactions to waste time on mere spectacle.
De Beauvoir goes on to describe a party to which she and Sartre decided not to ask Genet, such things being too middle-class for him; when she and Sartre got home early the next morning, it was D-Day. Genet died the day after de Beauvoir, and Sartre died on the same day as Genet (April 15) in 1980.
---
Daybook is contributed by Steve King, who teaches in the English Department of Memorial University in St. John's, Newfoundland. His literary daybook began as a radio series syndicated nationally in Canada. He can be found online at todayinliterature.com.