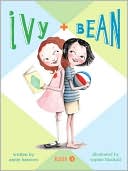 Seven-year-old Bean(she only hears her full name Bernice Blue when getting into trouble) liveswith her bossy eleven-year-old sister, Nancy, and her mom and dad in a house onPancake Court.She's the kind of kid that gets along with everyone–at the center of theneighborhood action. So when Ivy, alittle girl the same age, moves in across the street, why wouldn't Bean sayhello?
Where Bean's hairwas usually in tangles, Ivy's long red curly hair was always in place. BesideIvy wore dresses and her nose was always in a thick book. Bean only wears adress when her mom makes her and big books make her restless. And then there is the "kiss of death" –her mom keeps sayingthat they should be friends because Ivy "seem[s] like a nice girl." Well, that's the last kid that Bean would want to befriends with. Verdict: "Boring."
Annie Barrows (knownto adult readers for her best-selling TheGuernsey Literary and Potato Peel Pie Society) accomplishes the almostimpossible task of reflecting the world of second grader, creating the tensionand drama of family and friendships in language that can be read easily bychild who recently graduated from easy readers to early chapter books. Booksthe employ this perfect mix of limited language, short chapters and (of course)topics of interest for this age group are few and far between. And with thesetwo very real characters getting into scrapes that could happen to any of us,we know have in our hands a book as rare as rubies in a playground sandbox.
Barrows honors the everyday with joy and humor as Ivy and Bean torture the babysitter, try to be kind, generous and pure of heart, plan on breaking a worldrecord, end up in a ghostly situation, find out that ballet class isn't exactlywhat they thought and try find the solution to global warming for a sciencefair project. Sophie Blackall'soccasional black-and white drawings illuminate the text with compatiblehumor.
Best of all: eachbook in the series works marvelously as a stand-alone, story, so they can be read (and re-read) out oforder. Just in time for the holidays,the first six Ivy and Bean titles are available in two boxed sets, 1,2,3 plus asecret treasure box and 4, 5, 6 with paper-dolls and vinyl stickers. (And if that's not enough for your youngreader, there's a seventh volume, What's the Big Idea.)
-LISA VON DRASEK
---
Lisa Von Drasek is the children's Librarian at the Bank Street Collegeof Education. Her reviews and commentary have appeared in School Library Journal, The New York Times, Kirkus Reviews, The Bark, Knowledge Quest, Teaching K-8, Nick Jr., and more.