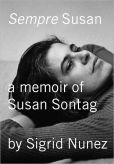 Susan Sontag was born on this day in 1933. Sontag became one of the most quoted cultural critics of her generation and the "dark lady of American letters" (Norman Podhoretz), on the strength of comments such as the following, from a 1967 interview in Partisan Review:
Mozart, Pascal, Boolean algebra, Shakespeare, parliamentary government, baroque churches, Newton, the emancipation of women, Kant, Ballanchine ballets, et al. don't redeem what this particular civilization has wrought upon the world. The white race is the cancer of human history.
Sontag later apologized for her cancer quip — saying that it was a disservice to cancer victims, thereby reinforcing her reputation for being able to turn on an intellectual heel. The editors of The Scandal of Susan Sontag, a 2009 collection of essays, say that their title was chosen in emulation of Sontag's "style of provocation," which they praise as "intentionally transgressive":
[I]t risks the embarrassment of a fall, and it is designed implicitly or explicitly to discredit what for her was the greatest sin, laziness in all its manifestations: lack of will, lack of movement, lack of commitment, lack of interest, lack of seriousness, lack of imagination, lack of sympathy, lack of hope for social and political transformation.
Though it offers more personal snapshots, Sigrid Nunez's 2011 memoir, Sempre Susan, reinforces Sontag's unyielding, sometimes overpowering sense of herself and her role. Nunez describes a woman with "outsize needs: manic activity, constant company" who sometimes uncomfortably reminded Nunez of her mother — "another touchy, chronic ranter who thought she was surrounded by idiots, who practically lived in a state of indignation, and who [felt] contempt for American superficiality and American 'culture'." So sempre (always) was Sontag that, when she died in 2004, even her terminal illness seemed inadequate preparation:
The friend from whom I first heard the news said, "She was such a vital presence, and that she should have been felled in this way is very dismaying." I remember that the word felled appealed to me. I thought Susan would have liked it too. I could not think of many other writers whose passing would have inspired such a response.… Though she was about to turn seventy-two when she died — though she was suffering from an almost incurable form of leukemia — it was as if her life had been brutally cut short, as if she had been struck down in her prime. Felled.
---
Daybook is contributed by Steve King, who teaches in the English Department of Memorial University in St. John's, Newfoundland. His literary daybook began as a radio series syndicated nationally in Canada. He can be found online at todayinliterature.com.