For the lover of lists, charts, and compendia of facts.
---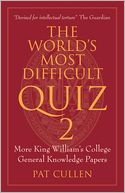 The World's Most Difficult Quiz 2
By Pat Cullen
The most diabolically challenging trivia quiz in history was once a final examination given to students at a boarding school on the Isle of Man. Begun in 1905, the annual "General Knowledge Papers" pose themed sets of questions (Which consort outlived the king by 61 years? What has a malodorous tetroxide?) that have become an annual sensation since The Guardian began printing the questions in 1951. Rambling through history, literature, science, and current events, this collection of brain-busters would be classified as a form of torture — but quizmaster Pat Cullen mercifully includes the answers.
---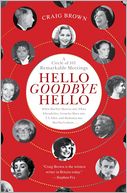 Hello Goodbye Hello
By Craig Brown
A loop of chance encounters between celebrities, politicians, artists, and authors delivers both play and profundity in this endlessly entertaining game of a book. Whether marveling at Mark Twain's gracious reception of a 23-year-old Rudyard Kipling or casting an incredulous eye on the praise H. G. Wells heaps on Stalin, you'll be astonished by the moments of serendipity uncovered by Craig Brown's ingenious daisy chain — and garner some ice-breaking anecdotes for future meetings of your own.
---
By Patrick Robertson
Patrick Robertson's new compendium of achievements, innovations, and discoveries isn't just good fodder for your next quiz night. It's also full of eyebrow-raisers, as the fifty years worth of research behind this volume yields stories that overturn conventional wisdom about everything from how popcorn arrived in America to the first black head of state. The best part: each of Robertson's gracefully composed short entries makes delightful reading.
---
By Henry Hitchings
Word origins are among the most enticing treats for trivia lovers, and Henry Hitchings, the award-winning author of Defining the World: The Extraordinary Story of Dr Johnson's Dictionary, spreads an etymological feast in this book. His uniquely constructed history of English shows it to be a truly polyglot language, following hundreds of words back to sometimes startling origins, from "cushy" (no relation to "cushion") and "doodle" to "hype" and even "wiki" (that last one involves an airport shuttle bus). Quite possibly the most browsable book on language ever written.
---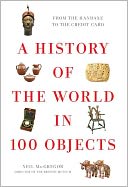 A History of the World in 100 Objects
By Neil MacGregor
The director of the British Museum offers a dazzling tour through the human past as he and his curators dive into the world-renowned institution's treasure trove of artifacts. From an Olduvai hand-axe to a chronometer from Darwin's ship The Beagle, MacGregor's inventory of these items is one readers can return to time and again, continually finding fresh insights about where we've been, and where we might be heading.