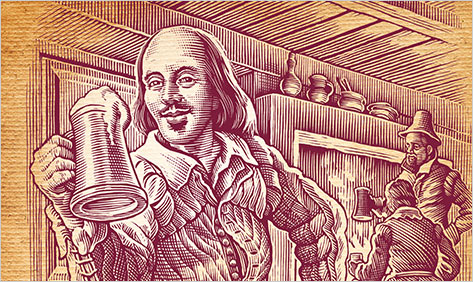 This much we know: Beyoncé came for a pint. So did Madonna. Princess Margaret and Lord Snowdon: check, check. Eisenhower and Churchill: check, check. Charles Dickens? Very likely. As pubs go, the George Inn has serious street cred, stretching back over 500 years, when the street was largely mud.

Was William Shakespeare a customer? Quite possibly. To its credit, Pete Brown's history Shakespeare's Pub comes clean up front: There is no proof that Shakespeare drank at the George Inn, but the Globe and the Rose were just around the corner, and the playwright was living in the neighborhood when he wrote Hamlet, Othello, King Lear, and Macbeth. And what a neighborhood: "a crowded, seedy dumping ground of criminals, travellers, conmen, outcasts, fugitives, refugees, nonconformists and eccentrics — and the highest concentration of drinking places known to man." Welcome to Southwark, Will, come sample the beer.

Southwark — pronounced, my son informed me, Sutherk — may have been a festering hellhole back then, but it had its attractions, too. It was the hub of entertainment: theater (much of it performed in the inn yards, which were readymade stages), brothels, food and drink, bear pits, dog fights, bare-knuckle fisticuffs, an appalling — seductive chaos drawn with waggish good cheer, not to forget great care, by Brown. It was a place without, lying just beyond London's borders and laws. Brown falls for Southwark hard, and its evolution is as much part of this story as the life and times of the George Inn.

But there is no escaping the romance of the George: inn, alehouse, coffee shop; 21,000 square feet of floor space; three stories, lofts, wings, courtyards; a pair of wooden galleries running along the front; a cacophony of snugs and restaurants and bedrooms — here, certainly, was one of the great coaching inns. Though now diminished in size — great hunks, some four-fifths, of the sprawling construction were ripped off for various reasons — the rooms divided and opened time and again, a sagging wobble of wonky lines beginning "to resemble a party balloon the morning after," it is a monument to the working pub, not immune to strutting its history but lacking the brazen nostalgia of the heritage industry.

Brown proceeds forward from the fifteenth century with numerous tangents and asides, happy to explore all aspects of the inn, the neighborhood, and as much of the city as is relevant. He is clearly delighted to have landed in the George's embrace, for it is old and stories fly off it like sparks. The same can be said for Southwark, situated at one end of the only bridge crossing the Thames, also for more than 500 years, always thick with the bustle of the city and reflecting London's ever-changing face. Nor could you ask for a more lively company of characters: merchants, sailors, fortune seekers, lepers, actors, soap makers, lime burners, freaks, Puritans, watchmen, watermen, coachmen, highwaymen, and Agnes Murray, who ran the George at the turn of the twentieth century and insisted Dickens's characters frequented the inn. A few years earlier, Chaucer's pilgrims had left for Canterbury from the inn next door.

Brown has a touch for mood and atmosphere. He gives many moments of history their due: a century ago, "the mingled aromas of vinegar manufacturing, leather tanning, glassmaking and ale brewing adding a unique local pungency to London's overall choking, sooty miasma." As Brown is a bit of an authority on beer, he pays special attention to ale brewing, and Southwark ale had a reputation for being "nappy and strong, sleepy and heady." Sounds right.

The great old inns were places for relaxation, excitement, controversy, and bad behavior, and Brown's story is an appropriate mix of politics, theater, sex, commerce, architecture, literature, religion, low entertainment, mystery, and beer — a multisensory experience of sights, sounds, and smells, all intense. As Shakespeare's roguish Autolycus says in The Winter's Tale, "a quart of ale is a dish for a king," and this is history written to delight royal and commoner alike.