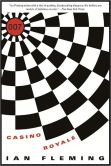 Ian Fleming's Casino Royale was published on this day in 1953. It is not only the first of the dozen spy-sex cocktails Fleming would shake and reshake over the next decade, but the source for the actual Bond cocktail, named at a first meeting with Vesper Lynd, the first of the double-dealing femmes fatales:
"Vesper," she said. Vesper Lynd…."

"I think it's a fine name," said Bond. An idea struck him. "Can I borrow it?" He explained about the special Martini he had invented and his search for a name for it.

"The Vesper," he said. "It sounds perfect and it's very appropriate to the violet hour when my cocktail will now be drunk all over the world. Can I have it?"

"So long as I can try one first," she promised. "It sounds like a drink to be proud of."

"We'll have one together when all this is finished," said Bond. "Win or lose."
The winning and losing arrive hand-in-hand at the end of the story, and the violet hour turns violent in a hurry. Bond's final words to Vesper are "Sleep well, my darling. Don't worry, everything's all right now." His final words of the book, a few quick deaths and revelations later, are to London: "…Yes, dammit, I said 'was.' The bitch is dead now."
Kingsley Amis, born later this week — April 16, 1922 — was a great James Bond fan. His The James Bond Dossier is part back-story and part defense, the series having been scorned or dismissed by some of the mainstream critics. One of these — "a female critic, in fact a Critic" — had dismissed Thunderball as suitable only for those men wanting their "adolescent inferiority feelings compensated." In rebuttal, Amis wonders if this is such a bad quality, and if the works of Homer are not "a far more compendious compensation manual than those of Mr. Fleming":
In Homer we can enjoy compensation for inferiority in bravery via Achilles, in fertility via Priam, in toughness via Ajax, in nobility via Hector, in cunning via Odysseus. And not only that. What about that episode where Odysseus, cast away naked on the shore, is awoken and cared for by the beautiful young princess Nausicaa and her attendant maidens? Blatant virility-impairment-refurbishment-substitution-syndrome.
---
Daybook is contributed by Steve King, who teaches in the English Department of Memorial University in St. John's, Newfoundland. His literary daybook began as a radio series syndicated nationally in Canada. He can be found online at todayinliterature.com.