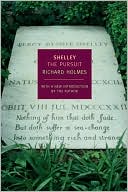 Percy Bysshe Shelley and Mary Wollstonecraft Godwin eloped on this day in 1814. But for one troubling drawback, the details of the event are the stuff of romantic legend — the two courting (if not making love) at the gravesite of Mary's mother, Shelley overdosing on laudanum at the idea of being denied, the several months of secret letters, the coach at 4:00 a.m., the eleven-hour dash to Dover, the secretive and storm-tossed crossing to Calais, this later described in Shelley's "The Fugitives":
…One boat-cloak did cover

The loved and the lover —

Their blood beats one measure,

They murmur proud pleasure

Soft and low….
The drawback is Harriet Westbrook Shelley, the first sixteen-year-old with whom Shelley had eloped (three years previously, on Mary Godwin's fourteenth birthday), and with whom he had a daughter, and soon a son. Two months after the second elopement, in a letter to his friend Thomas Jefferson Hogg, Shelley tried to explain himself: "The contemplation of female excellence is the favourite food of my imagination…. I suddenly perceived that the entire devotion with which I had resigned all prospects of utility or happiness to the single purpose of cultivating Harriet was a gross and despicable superstition." The biographers use such words to both damn and defend the poet, as lovers use his "Love's Philosophy" for their purposes:
The fountains mingle with the river,

And the rivers with the ocean;

The winds of heaven mix forever,

With a sweet emotion;

Nothing in the world is single;

All things by a law divine

In one another's being mingle; —

Why not I with thine?

See! the mountains kiss high heaven,

And the waves clasp one another;

No sister flower would be forgiven,

If it disdained its brother;

And the sunlight clasps the earth,

And the moonbeams kiss the sea; —

What are all these kissings worth,

If thou kiss not me?
---
Daybook is contributed by Steve King, who teaches in the English Department of Memorial University in St. John's, Newfoundland. His literary daybook began as a radio series syndicated nationally in Canada. He can be found online at todayinliterature.com.