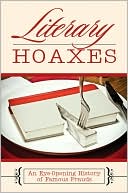 Jean Shepherd was born on this day in 1921. For most, Shepherd's fame is based on his humorous coming-of-age tales, these recounted on his late-night radio show, collected in a handful of anthologies, and reshaped in the movie A Christmas Story. He is also fondly remembered for one of the most successful and embarrassing media hoaxes of the century.

The story of how Shepherd and his radio show listeners cooked up international demand for a nonexistent book is recounted in Literary Hoaxes, a recent "History of Famous Frauds" by Melissa Katsoulis. As framed by Katsoulis, Shepherd's hoax is not only a cautionary tale on literary fashion and media hype but a major skirmish in a much larger war:
Shepherd's shift was the night-time, and broadcasting his musings about life to insomniacs, night-workers, artists, nursing mothers, drunks, people who knew they'd feel dreadful when the alarm went at seven, he knew he was talking to the margins. It was in the course of one program in 1956 that he came up with two things which would make history: the phrase "night people" and the swashbuckling historical novel, I, Libertine.
Noting that fashion-conscious, herd-following New Yorkers, or the day people among them, are obsessed with lists — the richest, the best dressed, the bestselling, etc. — Shepherd and the night people concocted the nonexistent I, Libertine as revenge:
What if, Shepherd wondered out loud to his listeners, all of you went into a bookshop tomorrow and asked for a book that you knew did not exist. The first person to ask for it would be given the brush-off and told there's no record of any such book. The second person to come in that week asking for it would be told the book was on order. And by the third and fourth request for the book, the bookseller would be on the phone to his supplier…. A buzz would be born. All book-buying New York would be talking about this hot new read.
Before long I, Libertine was not only in demand all over town but banned in Boston; one New York gossip columnist claimed to have had lunch with its nonexistent author; and more than one English professor had praised the scholarship of student night people who had submitted bogus I, Libertine essays and book reports.
---
Daybook is contributed by Steve King, who teaches in the English Department of Memorial University in St. John's, Newfoundland. His literary daybook began as a radio series syndicated nationally in Canada. He can be found online at todayinliterature.com.