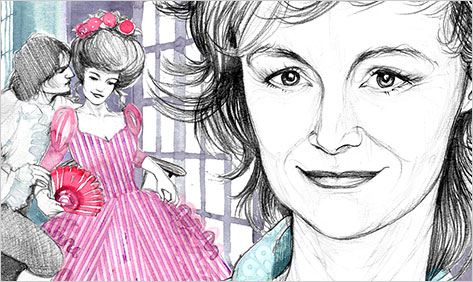 These days, everyone is supposed to be brilliant. Sometimes I wonder how all the children I meet can be so advanced and intelligent, but since their parents are looking me right in the eye as they describe two-year-old Abigail's ability to read, how can I possibly query it? Mind you, Abigail is already on her toes in dance class, sings like a lark, and is studying Latin in her spare time. My kid is playing the part of the Clock in the school play. And that's all I have to say about that.
My point is that our culture seems to be pushing us to adulate brilliance over kindliness, test scores over tying shoes, and ballerinas over clocks. It's even worse in romance fiction. Thank goodness we've moved away from the days when every heroine was a nurse or a secretary. But these days they're all either CEOs or rocket scientists paired with…CEOs and ditto. I thought it would be fun to look at authors who are bucking the trend, whose characters are what might politely be called a bit slow, or not kicking on every cylinder.
I'm starting with Georgette Heyer, since her Cotillion is the first in the tiny sub-genre I've sketched out — and it's still the best. The novel opens when a bad-tempered old man, Mr. Penicuik, has decided to give his entire fortune to whichever of his three great-nephews marries his stepdaughter Kitty. Jack, a devilish rake, is Kitty's favorite. But when he refuses to appear on Mr. Penicuik's command, she turns to Freddy. Freddy is, in Heyer's delicate phrase, "an undistinguished scholar" with exquisite taste in clothing and an amiable countenance. The novel stages a brilliant upset: Kitty sets up a fake betrothal with Freddy, the better to spur Jack's jealousy — but she falls in love with Freddy.
Rose Lerner is a debut author whose first book, In for a Penny, bravely sails into this perilous territory, following a less-than-perfect hero. Lord Nevinstoke, known to his ramshackle buddies as Nev, spends his time drinking, gambling, and accidentally spilling punch on ladies. But when he inherits a load of debt, he has to marry — immediately. We've all seen this plot before, but generally the hero is no Nev, who's an ordinary-looking young man. He likes poetry and can't add up figures; as he says, he's "not particularly clever." Instead, he's good-hearted, sensual, tender, and brave in the face of crisis. In for a Penny is a charming and original Regency that will make you wish a man like Nev would stroll through your front door.
Julia Harper's For the Love of Pete takes the spotlight off the hero and puts it squarely on the heroine. To call Zoey Addler free-spirited is like saying a bunny has ears. She meets Dante Torelli (a gorgeous, designer-clad FBI agent) when she body-slams his BMW after he tries to park in the space she just shoveled. She's wearing a pink scarf over her red braids, orange mittens, and a "purple knitted hat with ear flaps that looked like it was made by color-blind reindeer herders." Given her sartorial choices, you will be unsurprised to learn that Zoey is a poet who works at a health-food store called The Serene Grape. She's prone to fluffy thinking, noting that practical suggestions are "downers." But her charm sneaks up on Dante. By the end of the novel, he wonders how "could this woman, who seemed so totally different from everything he'd thought he'd wanted, be so perfect?" By then, she seemed perfect to me, too.
Free spirits like Zoey tend not to wrack up long resumes (even if Zoey has managed to get three poems published). Chelsea Ross in Rachel Gibson's Nothing But Trouble is the exception. She has a long, loooong resume, including a stint as a "scream queen," the bad girl who comes to a bad end in horror films. At the moment she's temping as a home health aid. Mark Bressler, the injured hockey star she's assigned to, immediately ascertains she's a few cards short of a deck, demanding: "What is the politically correct term for 'retarded'?" Mark is an infuriating patient who doesn't handle pain or immobility well, but Chelsea sticks to the job, even when he makes her buy him condoms and KY jelly. Gibson is one of the funniest writers around, and she makes the most of a clash between a hardheaded sports star and a rather ditzy free spirit.
Jean Brashear's The Goddess of Fried Okra offers the ditziest heroine of them all — and the sweetest. Eudora "Sweet Pea" O'Brien is an ex-cocktail waitress road-tripping across Texas, looking for her sister. The twist is that her sister is dead, and Pea is looking for her reincarnated spirit. She really believes in her search, but instead of finding a Lazarus-like sibling, she stumbles across a sexy hitchhiking con man, a pregnant teenager, and a calico kitten. They all wind up in a small Texas town where Pea learns to fry okra and wield a sword (really!). She also learns to say goodbye to her sister, and hello to the con man, but most importantly she learns life lessons — "about not giving up, no matter what life threw at you. About sticking like glue to those who were important to you."
All of these books dodge the obvious — intelligence is a useful attribute for survival — and go straight for the heart. Because it doesn't matter how smart you are if you can't learn, like Sweet Pea, what the most important things in life are. You'll finish these books with a smile, because each one reminds its reader that two-year-old Abigail, she who can read and twirl on her toes, will only be as happy as her heart is whole. It could be that in the most important of races, even the Clock in the class play has an even chance of getting to the finish line.
---
If
you'd like to discuss romances featuring rocket scientists (or not), please stop in to chat with Eloisa James in the Romantic Reads Book Club, where she'll be joined by Jean Brashear and Rose Lerner. Please do check out Eloisa's past columns in the Archives, and if you'd like to get her reaction to romances as she reads them, follow her on Facebook or Twitter. If you'd like a peek at Eloisa's own romances, please visit her web site at www.eloisajames.com.
And don't forget the Barnes & Noble daily romance blog, Heart to Heart, where readers chat about the hottest news in the world of romance, from favorite authors to scorching love scenes.
Eloisa James's most recent novel is A Duke of Her Own.