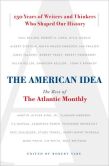 The first issue of The Atlantic Monthly appeared on this day in 1857. Although the magazine was an initial success, Charles Eliot Norton wrote editor James Russell Lowell that it would likely prove to be another flash-in-the-pan:
[S]uch things are never permanent in our country. They burn brightly for a while, then burn out — and some other light takes their place. It would be a great thing for us if any undertaking of this kind could live long enough to get affections and associations connected with it, whose steady glow should take the place of, and more than supply, the shine of novelty, and the dazzle of the first go-off.… I would give a thousand of our new lamps for the one, old, battered, but true magical light.
In his Introduction to The American Idea: The Best of "The Atlantic Monthly," recent editor Robert Vare says that, despite its venerable status today, the magazine's longevity did not come from playing it safe. First to publish many "landmark documents" on the most contentious issues of the past 150 years, from abolitionism to feminism to gay rights, The Atlantic "has a long history of wading into turbulent waters":
The Atlantic was the first American magazine to recognize the importance of Charles Darwin and to champion his theories. Seventy-five years before "diversity" and "multiculturalism" became household words, it was the first magazine to denounce prevailing tendencies to foist Anglo-Saxon culture on America's growing, increasingly heterogeneous immigrant population.
---
Daybook is contributed by Steve King, who teaches in the English Department of Memorial University in St. John's, Newfoundland. His literary daybook began as a radio series syndicated nationally in Canada. He can be found online at todayinliterature.com.