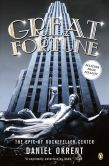 Jerome Kern and Oscar Hammerstein's Show Boat opened on this day in 1927, for a sixteen-month run and a place in the history books as "the original American musical." Nine years later, the movie version of Show Boat had its world premiere at Radio City Music Hall, which opened its doors on this day in 1932.

Radio City was the first building of Rockefeller Center. As described in Daniel Okrent's Great Fortune: The Epic of Rockefeller Center, the opening-night gala was intended as a showcase for the best art and architecture that modern America could offer, or big money could buy:
Opening night of what the advertisements called "The Supreme Stage Entertainment of All Time!" began with a dancing curtain. But that was after everyone was seated, after they had marveled at the stunning design of the Grand Foyer, after they had responded to the buglers who had summoned them inside the huge auditorium, where the gilded ceiling, unobstructed by balconies, made a visitor feel "as though one were a Lilliputian standing inside an old-fashioned collapsible drinking cup." There were two shows that night: the one made of music dance and light on the stage, and the one shaped of limestone and glass and silk and steel, augmented by large quantities of daring, vision, and cash.
The glittering first-night crowd came to see all that was "world's largest" (stage, number of seats, foyer mural, etc.) and "world's tallest" (the high-kicking Rockettes), and to enjoy the range of egalitarian entertainment, from vaudeville and DeWolf Hopper's recital of "Casey at the Bat" to opera and Martha Graham's modern dance troupe. Unfortunately, notes Okrent, the reviewers thought the show was also the world's longest, smallest and wrongest:
[Walter] Lippmann wrote of "a theater which is so long that from the back rows the performers look like pygmies and is so wide that from the nearer seats the eye cannot encompass the whole stage." The men behind Rockefeller Center, he said, "had built a pedestal to sustain a peanut.… The esthetic aimlessness…is exceeded only by its social irresponsibility.… Either the existing theaters and existing office buildings must be gutted to provide audiences and tenants for Radio City or Rockefeller Center will have deficits to meet commensurate with its own pretentiousness.
---
Daybook is contributed by Steve King, who teaches in the English Department of Memorial University in St. John's, Newfoundland. His literary daybook began as a radio series syndicated nationally in Canada. He can be found online at todayinliterature.com.