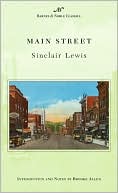 February 7: On this day in 1885, Sinclair Lewis was born in Sauk Centre,Minnesota. The argument which Lewis enjoyed with his hometown is a celebratedone—not least in the hometown, where Lewis's status has evolved from cuss-wordto cultural attraction. With Lewis aNobel-winner, Sauk Centre and its most famous son had patched things up longbefore his death in 1951, of course. Still, given that his Main Street mocks such boosterism, few could have predicted thetown's annual "Sinclair Lewis Days," or that the local high schoolsports teams, upon which Lewis never dreamed of playing, would be cheered on asthe "MainStreeters."
Lewis could not wait toget away from home, but he did not leave as Joyce left Dublin, or stay as faraway as Hemingway did from Oak Park, Illinois. One return visit is amusinglydescribed in With Love from Gracie, amemoir by his first wife, Grace Hegger Lewis. She was a big-city girl who hadworked at Vogue, and her new husbandhad forewarned her about Doctor Lewis of Sauk Centre; still, it was a shock:
The first night home Hal closed the door of therear bedroom where we were to sleep. Next morning the Doctor complained that bydoing so we had shut off the current of air needed on these warm spring nights."Golly, I'd forgotten about that. There used to be a big green book thatDad used as a doorstop – and here it still is!" So we stuck "BibleReadings for the Home Circle" in the door every night thereby sacrificingour only chance at privacy….
Lewis and his wife ended their first visit to SaukCentre by driving out of town in a Model T Ford, heading back to New York viaCalifornia. Lewis designed a canvas and wooden pole contraption, turning thecar into a homemade camper for the prairie nights. The canvas was assembled"on the sewing machine of a friendly shoemaker in full sight of MainStreet," giving an additional touch to those famous, first-page sentencesin the novel: "Main Street is the climax of civilization. That this Fordcar might stand in front of the Bon Ton Store, Hannibal invaded Rome andErasmus wrote in Oxford cloisters…."
---
Daybook is contributed by Steve King, who teaches in the English Department of Memorial University in St. John's, Newfoundland. His literary daybook began as a radio series syndicated nationally in Canada. He can be found online at todayinliterature.com.