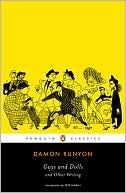 December 18: Onthis day in 1946 Damon Runyon's ashes were scattered over Broadway by his son,in a plane flown by Eddie Rickenbacker. Born in Manhattan, Kansas, Runyon wasthirty when he arrived in New York to be a sportswriter, and to try out atMindy's, the Stork Club, and any betting window available his crap-shootworldview: "All of life is six to five against." Broadway became hisspecial beat, and in Guys and Dollsand other collections he developed the colorful characters and the gangsterpatois that soon swept America.
Stories like "Social Error" even poked fun at the"underworld complex" that was making him so famous. Socialite MissHarriet Mackyle is a Doll-wannabe, the kind who "thinks it smart to tellher swell friends she dances with a safe blower." Guy-wannabes like BasilValentine get "all pleasured up by this attention … because Miss HarrietMackyle may not look a million, but she has a couple, and you can see enough ofher in her evening clothes to know that nothing about her is phony."Nothing that Basil will ever see, anyway: after a near-fatal misadventure amongthe real Broadway hoods, Miss Harriet and Basil escape to Italy and getmarried, just as they deserve.
For Runyon, the ending was not so happy, romantically orotherwise. Runyon's second wife—formerly a Spanish dancer at the SilverSlipper, first met at a Mexican racetrack when she was a kid running messagesfor Pancho Villa—had left him for a younger man after fourteen years. Throatcancer had forced all communication to be via notepad, and one bitter note toDamon Runyon Jr. expresses more 'stacked deck' than 'six-to-five against':
I notice you do a lot of thinking about yourself and yourproblems. Sometimes when you are in a mood for thought give one to your old manwho in two years was stricken by the most terrible malady known to mankind andleft voiceless with a death sentence hanging over his head, who had a bigcareer stopped cold, and had his domestic life shattered by divorce and hissavings largely dissipated through the combination of evil circumstances….Try that on your zither some day, my boy, especially when those low moods youmention strike you.
Runyon's very last note to Damon Jr. was theregards-to-Broadway request about his ashes.
---
Daybook is contributed by Steve King, who teaches in the English Department of Memorial University in St. John's, Newfoundland. His literary daybook began as a radio series syndicated nationally in Canada. He can be found online at todayinliterature.com.