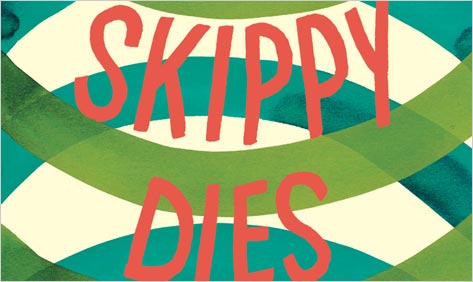 Irishman Paul Murray's Man Booker-longlisted second novel embraces several different fiction genres in its 650 pages—social comedy, coming-of-age tale, love story, tragedy. At its heart, though, what this capacious, dark but often very funny book really wants to be is a state-of-the-nation novel, its subject the precarious moral health of Murray's homeland.
Taking the role of Ireland in Skippy Dies is Seabrook College ("the oldest Catholic boys' school in the country"), an institution whose long-cherished priestly traditions are under vigorous assault from a combination of drugs, sex-abuse scandals, the porn-soaked sensibilities of its students, and Celtic Tiger business practices. The modern world has come crashing through Seabrook's august gates, and being buffeted about in the ensuing storm are three innocents—Howard "the Coward" Fallon, a chronically underachieving history teacher who has sought sanctuary at his old alma mater after a disastrous sojourn in London; outsize science prodigy Ruprecht Van Doren, who spends his days pondering the meaning of M-theory; and his roommate and best friend Daniel "Skippy" Juster, a frail, vulnerable child whose mother is dying of cancer and who has conceived a hopeless passion for a dark-haired beauty called Lori from the girls' school next door. Skippy, we know from the book's title, is himself going to die—indeed he does so in the first few pages, halfway through a doughnut-eating contest with Ruprecht. The rest of the novel is spent discovering why, and what the consequences are for the people he leaves behind.
Murray populates his story with a highly entertaining supporting cast of adolescent misfits and adult grotesques. There's Mario, a sex-obsessed 14-year-old who carries around a "lucky condom" as a sign of his virility and sexual sophistication, and Carl, a psychotic, self-harming student who stands between Skippy and his love for Lori. Among the teachers are Father Green, a hell-fire priest who looks back nostalgically to his days as a missionary in Africa, and Acting Principal Gregory Costigan, the morally corrupt deputy head who uses the headmaster's illness as his way of getting to the top. Murray restlessly juggles not only these characters but a whole host of ideas—about the above-mentioned M-theory, Robert Graves's notion of the White Goddess, and the secret history of Irish involvement in the First World War, to name just three. Some of this can feel extraneous, and a good deal of it could, in truth, have been trimmed. But Murray is such a precocious talent, such a witty raconteur, and such an effortless stylist, that he carries you along on his meandering tour of the Irish psyche without too much complaint. In particular, he is able to inhabit the scrofulous, sex-obsessed minds of his young characters with remarkable ease, giving voice to their lives much in the manner of Roddy Doyle in The Commitments.
Where he differs markedly from Doyle, though, is in his reach and ambition, in the darkness that accompanies and ultimately overtakes the banter. For all the jocularity and the schoolboy pranks, this is a disturbing book, one full of anger about the unexamined history of modern Ireland. That two such contrasting sets of emotions can play successfully alongside each other is just one of the achievements of Murray's rewarding and engrossing book.