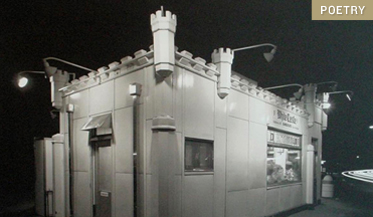 Nearly all you need to know about August Kleinzahler can be found on the copyright page of his enormously enjoyable new book, Sleeping It Off in Rapid City: Poems New and Selected. Some writers dedicate books to their teachers, others to friends or family. I?ve seen houses and island retreats receive credit. Kleinzahler takes the road less traveled. "The author wishes to thank London Review of Books, the Maker?s Mark Distiller, and the Smith-Corona Typewriter Company for providing (1) oxygen, (2) courage, and (3) smooth crisp action."

What follows from a dedication like this can only be a good time. Still, whimsy formalized into art is no longer whimsy — it?s a whimsical posture. It can have the right effect, though, especially if assembled slyly enough. P. G. Wodehouse worked like a factory, yet you didn?t see the smokestacks or hear the conveyor belt in his books.

Kleinzahler is a similar creature in verse form. His poems beetle down the page, telling tales of barrooms and night flights, crummy days turning vaguely tolerable at dawn. Guiding our eye as it descends through the lines there is always Kleinzahler, the poet, out there pollinating pain with beauty, as he does in the opening of "Vancouver."


Black filthy rain it?s raining
like a grudge is out
but the neon mermaid over the fish place
looks best that way, in the rain.


Poets who care about beauty so often retreat to a world that no longer exists, but you won?t have a hard time finding Kleinzahler?s: airport lounges, dive bars, the view out a New York City apartment, "roofs with their old wooden storage tanks / and caps of louvered cowlings." It?s a slightly scuzzy metropolis. If these poems had a soundtrack Tom Waits would certainly be on it. One poem describes the ants marching around his food at a Chinese restaurant; another muses on how much meat must be trucked in and out of Manhattan daily.

What?s so amusing is how Kleinzahler brings such enormous formal gifts to describing and loving this universe. Like Lawrence Joseph and John Ashbery, he can compress poems into discrete shapes of sound — force the reader to stop and pause and breathe exactly as he wants, all while keeping the imagination?s eye fully engaged. "On Johnny?s Time," "Goddess," and "Portrait of My Mother in January" are supreme examples of this enormous control.


Mother dozes in her chair,
awakes awhile and reads her book
then dozes off again.
Wind makes a rush at the house
And, like a tide, recedes. The trees are sere.

Afternoons are most difficult.
They seem to have no end,
no end and no one there.
Outside the trees do their witchy dance.
Mother grows smaller in her chair.

This is a tremendous poem, the first line lulling the reader into what appears to be a calm, quiet, domestic scene. Then the wind kicks up and there?s a sense it?s not nearly so serene, even if the trees are sere. The repetition of that "e," silent and not, appears all the way down, making it look like a poem shot full of holes, of absences. The lines grow shorter in the middle of the stanzas, like a mood shrinking down out of misery. At the end, the loneliness shouts off it — all the more so because the dying mother seems so unaware she is being watched.

As you see in this poem, Kleinzahler can watch and write about pretty much anything he wishes — static or frenetic, high up in the heavens or right here down on the streets. He loves characters, glimpses of kitsch, the mournful pathos of the overlooked. "Lots of taxis and brittle fun," he writes in "San Francisco/New York." "We pass the shop of used mystery books / with its ferrety customers and proprietress / behind her desk, a swollen arachnid / surrounded by murder and dried out glue / of old paperback bindings. / What is more touching / than a used-book store on Saturday night."

The mood, the rough glamour, the sense that his poems are records of a night that went nowhere good — it all lends Kleinzahler?s work the hard, endearing toughness of 1950s noir. Indeed, if Frank O?Hara had had a darker side, he may have sounded like this. But it?s a different world now, 21st-century New York/San Francisco, and Kleinzahler is perfectly suited to urban life in the age of capital?s supposed triumph — at home in the margins, and just as tuned in to cities? constant mercantile buzz. "The markets never rest," he writes in "The Strange Hours That Travelers Keep," "Pork bellies, titanium, winter wheat / Electromagnetic ether peppered with photons / Treasure spewing from Unisys A-15 J mainframes."

Kleinzahler is so good at O?Hara?s type of omnivorous, roving poem it?s easy to forget he can do so much more. In fact, his range could be even broader than the New York poet. He always seems to be working with a bigger palate of words. And he possesses a pastoral poet?s love of painting the natural, no matter what urban wasteland it?s traveling over. "Storm over Hackensack" begins with this colorful prediction. "This angry bruise about to burst / on City Hall / will spend itself fast / so fluid and heat may build again."

Occasionally, Kleinzahler?s desire to depict and take snapshots pushes his lines closer to prose than poetry. This isn?t such a bad thing, especially since Kleinzahler is such a good prose writer, but it highlights a recurring, if small weakness in his verse — a flattening toward the prose poem, as in "Traveler?s Tales: Chapter 18":


A southerly bluster off of Bass Strait
was raising whitecaps in the Bay
and jittering the flags out across the plaza.
We were sitting under the famous bare-ass portrait of Chloe.
You know the one, in the old upstairs hotel bar, posh.


Take out the line breaks and this easily becomes prose — nicely written prose, still, but not poetry. And yet, as flat as these lines are, they have Kleinzahler?s inimitable mixture of beauty and bare-ass, all while giving you a bit of a dirty wink. They?re going somewhere — probably fueled by Maker?s Mark and a good, workable typewriter. Like every other piece of work in this book, they could be written by no one else.