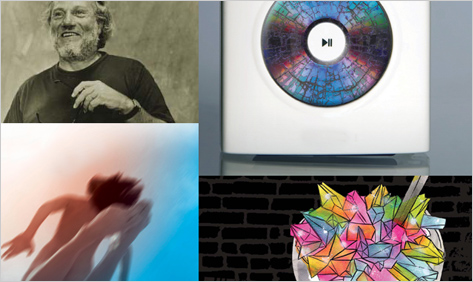 To name one's new publishing venture "Soft Skull Press" implies many things. A disdain for the academy, and for stodgy or highbrow markets and products. A freshness and flexibility akin to an infant's malleable fontanelles. Or perhaps even a diseased mutant condition involving skeletal melting, straight out of a Ray Bradbury story. When you learn that the founder of Soft Skull, Sander Hicks, also sang in a punk group called White Collar Crime, his 1992 decision to christen his fledgling firm in such an outrageous and unlikely manner coheres entirely.
Since its inception, Soft Skull has made its name by publishing a wide variety of entertainingly transgressive volumes positioned somewhere along the axis defined earlier by RE/Search and Semiotext(e) and, in parallel, by their contemporary, powerHouse (founded in 1995). Under publisher Richard Nash, from 2001 to 2009 Soft Skull ramped up both its output and its industry and media profiles, offering such well-received titles as David Rees's Get Your War On and Lydia Millet's Oh Pure and Radiant Heart. Sold to Counterpoint in 2007, the imprint remains very much its own master, under the current guiding hand of Editorial Director Denise Oswald.
Four representative recent books from the firm show that Soft Skull's youthful receptivity to unconventional ideas and forms remains intact.
If you were to blend the gutterpunk sensibilities of Kathy Acker with the surreal and melancholy reveries of Richard Brautigan, you might end up with something like Martin Millar's Ruby and the Stone-Age Diet. Our young narrator, prone to hallucinations and bemusedly at odds with the ways of uptight straight society ("Working at the mailing firm is like a punishment from God."), lives platonically with his pal Ruby in a London squat. The daily affairs of the two comprise a fey, sadly wistful circus of bad jobs, unsatisfactory relationships, and visits from robots, aliens, and goddesses ("Fanfaron, God of Electric Guitar Thieves"). Jaime Hernandez channeling Charles Bukowski might produce something vaguely similar.
As a journalist for Rolling Stone, Steve Knopper has cultivated a smooth, confident, engaging narrative voice that perfectly delivers the highly readable goods in Appetite for Self-Destruction. But his storytelling prowess is abetted by the perfect subject matter: the "dirty sexy money" world of pop music. Focusing not on the art itself but on the business side of recorded music, and employing assiduous research with the benefit of 20-20 hindsight, Knopper chronicles the alternately sordid, hilarious, and educational tale of how the industry undid itself, mismanaging enormous sales into a cratered market. Peopling his book with sharply delineated celebrities — Tommy Mottola, Edgar Bronfman, Jr. — as well as such unsung players as James T. Russell, arguably the man who invented the CD, and Karlheinz Brandenburg, a seminal contributor to the creation of the MP3 format, Knopper shows us the larger-than-life fallout of short-sighted capitalism and greed and luddite ignorance. The book is a brilliant, vinegar-laced litany of failure that holds valuable lessons for book publishing and other industries facing technological paradigm shifts.
The cover to Marisa Matarazzo's winning first book, the story collection Drenched, will invariably and inevitably remind any reader over a certain age of the cover to Nirvana's Nevermind album: naked swimmer in an aquatic wilderness. Therein lies a clue to Matarazzo's generational sensibilities: not pure ham-handed grunge exactly, for her beautiful prose is immaculately assembled and cleverly engineered for density of weird effect. But certainly she shares a Cobain-style affinity for interesting losers, the oppressed of the world. When you add in her deadpan yet outrageous surrealism, the results, to continue the musical analogy, resemble the Flaming Lips or Ween. From a more literary angle, think Kelly Link or George Saunders, Matthew Derby or Haruki Murakami. Bolstered by subtle interconnections of incidents and persons, these stories limn a weird world in which offshore oil rigs manufacture love potions ("Sunder") and a sensitive teen expresses her melancholy by wearing a bra made of glass ashtrays ("Fisty Pinions"). In Matarazzo's realm of Rimbaudian deranged senses, we navigate the funhouse of life by bumping blindly into sharp corners, then Braille-reading our wounds.
Impassioned iconoclast, literary bomb-thrower and champion of popular culture, critic Leslie Fiedler (1917-2003) stands in some danger, as do even the best writers, of falling into posthumous obscurity. But with vigorous friends like editor Samuele Pardini, that slide down the oubliette of history will be forestalled. Pardini has assembled a robust anthology, The Devil Gets His Due: The Uncollected Essays of Leslie Fiedler, and thus has provided us with a monumental aide-mémoire to what made Fiedler exceptionable. "When I think of the books I have loved best in my life, I realize that what I admire in them is what I love in pop art at its most gross, flagrant, vulgar, beautiful and unrefined: the mythopoeic power of the author… [G]reat pop books, great elite books…turn us again into savages and children…" ("Giving the Devil His Due"). Although lack of an index mildly frustrates revisiting favorite passages, the reader will still be able to wander the dark woods of these pages, visiting the lively shades of Twain, Pound, Vonnegut, Phil Farmer, James Fennimore Cooper, and James Branch Cabell, among others, with the entertaining Fiedler as his Virgil.