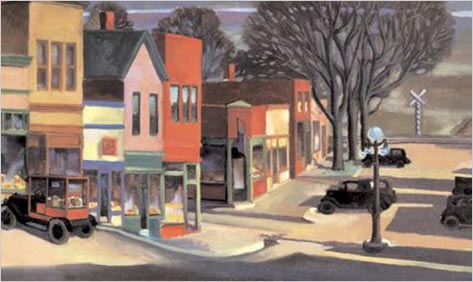 From the Editors: Sundance TV's series Rectify  — now into its second season — tells the story of Daniel Holden, who, after his conviction for a terrible crime is vacated on DNA evidence, returns from prison to life in his small Georgia hometown. While the continuing story focuses on Daniel and his family, the little town of Paulie stands as a classic American character all its own. We asked contributor Jessica Ferri to give us her list of great small-town reading.
The small town, for many, is a symbol of America in its essential form, the ideal scale for a community (and the ideal backdrop for nearly every politician's personal story). Whatever the mythology is, the sad fact is that small towns are disappearing, reinventing-the-dwindling-middle-class-may-take-a-revolution due in large part to struggles facing the middle class: unemployment and underemployment, outsourced work in manufacturing, and dwindling opportunities in once-strong industries. But — happily for readers — the small towns of American fiction continue to thrive: we can revel in the eccentric characters, dark humor, family secrets, and even horror lurking around the corner.
---
By Sherwood Anderson
Nearly twenty years before the play Our Town, Sherwood Anderson captured the small town of his youth, Clyde, Ohio. Though he claimed the town and the characters in the book to be fictional, sociological and geographical similarities suggest that the resulting collection of short stories to be considerably autobiographical. In perhaps one of the most personal, if not most heartbreaking of these stories, Anderson describes a mother's hopes for her son. She prays: "Even though I die I will somehow keep defeat from you . . . God may beat me with his fists. I will take any blow that may befall if but this boy be allowed to express something for us both." Overlooked for some years, Winesburg, Ohio is now embraced as an American classic that influenced the likes of Ernest Hemingway, William Faulkner, and John Steinbeck.
---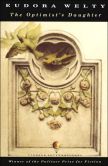 The Optimist's Daughter
By Eudora Welty
Perhaps in order to gain perspective on small-town life, one must escape, only to return after some distance. In Eudora Welty's The Optimist's Daughter, Laurel travels back home to New Orleans to see her father, Clint, a judge undergoing an operation on his detached retina. But when Clint unexpectedly dies, Laurel is left to organize a funeral and put up with her father's second wife, the imbecilic Fay. The two women travel to Mississippi, where the Judge wanted to be buried and where Laurel grew up, bringing up memories of Laurel's beloved mother, Becky. "'Fay, my mother knew you'd get in her house. She never needed to be told. She predicted you," Becky says. " 'Predict? You predict the weather,' said Fay. You are the weather, thought Laurel. And the weather to come: there'll be many a one more like you, in this life." With her sharp wit and eccentric cast of characters, Welty captures the geyser of emotions that can occur when one returns to their childhood home.
---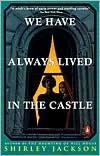 We Have Always Lived in the Castle
By Shirley Jackson
Most know Shirley Jackson from her terrifying short story "The Lottery," which takes the cruelties of small-town life to a whole new level: ritual sacrifice. But her later novel, We Have Always Lived in the Castle, takes a deeper look at the sinister both in the home and in the village. The neighbors have always assumed something was seriously wrong with the Blackwoods after the entire family, save the two sisters and their uncle, turned up dead via arsenic in their sugar bowl. As Caroline Blackwood explains, "Fridays and Tuesdays were terrible days, because I had to go into the village . . . the people of the village have always hated us." Rumor has it Jackson was moved to write "The Lottery" when she and her family faced anti-Semitism in their small town of Bennington, Vermont. We Have Always Lived in the Castle suggests that there can be an unsettling mob mentality found in tight-knit communities, and that the root of such evil is senseless — even innate.
---
By Stephen King
While Stephen King once called Shirley Jackson America's best horror writer, it's King who has carried that torch into the twenty-first century. Zombie pets are scary — but the true terror behind Pet Sematary (as in many of King's novels) is the frustration of a man who doesn't fit in. Like Jack Torrance in The Shining, Louis Creed has lost his job as a doctor under suspicious circumstances and must move his family to the rural Maine hamlet of Ludlow to work at a university clinic. Ludlow's constant stream of Mack trucks (the throughway has yet to be built) dooms all pets. Despite warnings not to venture past into the town's animal graveyard from neighbors and ghosts alike, grief-impaired Louis makes a horrifying mistake.
---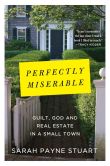 Perfectly Miserable
By Sarah Payne Stuart
Sarah Payne Stuart was caught off guard when, after having a family of her own, she felt homesick for the New England of her discontented childhood. "I wandered the Concord streets weepy with adoration for anything that had ever happened in my youth. The sight of the dentist's door, still with the same lettering, which I had averaged five cavities a visit, filled my heart to brimming. I gulped down sobs as I took out books from the library, where my red candy stain could still be found on its copy of Little Men." Her memoir, Perfectly Miserable, recounts a childhood marred by her mother's mental illness and her parents' steadfast commitment to the Protestant ethics of New England. In addition to her family, Stuart is joined by the ghosts of small-town New England past: Bronson Alcott, Thoreau, Emerson, Hawthorne, and her cousin (once removed) Robert Lowell. Stuart's poignant honesty suggests that perhaps you can go home again, if only to take ownership of your past.