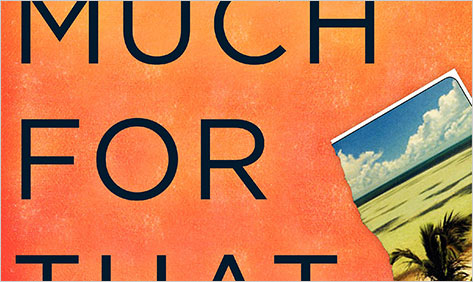 The cost of catastrophic illness is universally measured in the emotional toll it takes as a loved one sickens and dies. But in 21st-century America it is also measured in dollars and cents. Lionel Shriver's pointed and poignant new novel, So Much for That, is about not just Glynis Knacker's battle with mesothelioma and its effect on friends and family, but also about the financial and medical excesses of the American health care system.
As the book opens, Glynis's husband, Shep, has just bought three one-way tickets to the clove-scented island of Pemba, off the coast of Zanzibar. With Glynis as a semi-willing partner, Shep has long dreamed of The Afterlife, an escape from his petty tyrant of a boss, the West Side Highway, telemarketers. But he and Glynis have grown apart and he has bought the tickets without telling her, prepared to go alone if she won't go with him. The third ticket is for their surly teenage son. But Glynis too has a secret: she has cancer.
Glynis is not a "good" patient. Only Flicka, the daughter of Shep's best friend, Jackson, is able to connect with her. Flicka suffers from a rare degenerative disease called familial dysautonomia. Difficult, miserable and a completely endearing character, she holds her own family together — and in the end is too willing to assume responsibility for a shocking tragedy that tears it apart.
After a year of grueling treatment (of whose cost almost $700,000 is not covered by health insurance), Shep asks the top-flight Dr. Philip Goldman what he thinks his wife has gained. "Oh, I bet we've probably extended her life a good three months," the doctor answers. "No, I'm sorry Dr. Goldman," Shep responds. "They were not a good three months."
What Glynis has lost is painfully clear: almost everyone close to her has given up in the face of her ravaged body and embittered rage, her children are distant and scared, her husband feels shut out and compromised by her request not to know the prognosis. Glynis herself, encouraged by Dr. Goldman, tries one futile treatment after another. Cancer is not a battle, Shep tries to tell her, "Dying is not defeat."
As she has shown in earlier psychologically astute novels, including The Post Birthday World, We Need to Talk About Kevin, and A Perfectly Good Family, Shriver has an eye for family dysfunction. Shep's sister, the breathtakingly self absorbed Beryl, regards it as her due that Shep support not only their widowed father but her, even after she moves into their father's house and ships him off to a nursing home. Well-intentioned friends falter and disappear. A sister tries to get Glynis to accept Jesus. A daughter spends her rare visit cooking a meal Glynis can't eat.
One afternoon Flicka is brought to visit Glynis. The two share the kind of intimacy neither can with anyone else.
"So. You get tired of this?" Flicka asked.
"I don't like it when people come here and expect me to entertain them," Glynis complains.
"But if they tell you about all the cool shit they're doing, you get pissed off."
Glynis shrugged. "I don't know what I want. So no one can please me. Funny — except you."
"Of course," Flicka said casually. "Misery loves."
Many fully realized strands contribute to this sad, funny, compulsively readable book. Its resolution may be fairytale-like, but it is immensely satisfying nevertheless.
---
Katherine Bouton is the former books editor of the New York Times and the former deputy editor of the Times Magazine.