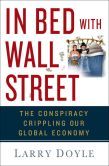 The New York Stock Exchange was founded on this day in 1817. According to Larry Doyle's In Bed with Wall Street, the recent scandals at the world's largest and most influential stock exchange should be attributed not to any lone wolf but to the institutionalization of a predatory system. Doyle's book aims "to pull back the covers on Wall Street, Washington, and the regulatory agencies so American taxpayers, and investors and consumers everywhere, might see what's really going on" — namely, "a methodical degradation of the rule of law, investor protections, and financial regulations," allowing "crony capitalism" to flourish and the nation to founder:
The development of this crony capitalism came at the expense of our constitutional principles, that we are a nation governed by laws and not men. And when it all fell apart, rather than doing the hard work of exorcising the poison, our leaders chose the path of expediency by papering over the crony cesspool with trillions of dollars in central bank liquidity. Easy monetary policy may very well be the prudent path during a deleveraging and deflationary economic period, but bailouts, combined with creating one bubble to recover from another, are not the recipe for rooting out the fraud and reconstructing the foundation needed for true economic growth.
---
Daybook is contributed by Steve King, who teaches in the English Department of Memorial University in St. John's, Newfoundland. His literary daybook began as a radio series syndicated nationally in Canada. He can be found online at todayinliterature.com.