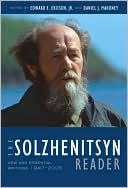 October 8: Onthis day in 1970, Alexander Solzhenitsyn was awarded the Nobel Prize. In his1975 memoir, The Oak and the Calf,Solzhenitsyn describes his failed attempt to use his Nobel Prize as a knock-outblow to Soviet repression. "During my time in the camps," he writes,"I had got to know the enemies of the human race quite well: they respectthe big fist and nothing else; the harder you slug them, the safer you willbe." His Nobel moment would be the opposite of Pasternak's reneging andknuckling-under: unconditional acceptance of the Prize, a rousing speech inStockholm, no concessions come what may. Then it gradually became clear thatthe Academy, wanting his presence but not his politics, planned to keep himclear of the demonstrations and off the soapboxes: "Fine! The very reasonwhy I trudged my way from work camp parades to the Nobel Prize—to hide in aquiet apartment in Stockholm and flee with a carload of detectives from a lotof pampered young ne'er-do-wells."
Then came strategic doubts: once out of the country he wouldlikely be kept out, thus losing the ability to fight from within. Compoundingthese reasons—this is not in the memoir but a 1984 biography by MichaelScammell—was apersonal situation not unlike Pasternak's: an extramarital affair that had hismistress pregnant, his wife suicidal, and all concerned vulnerable tocounter-attack from the authorities. Having failed to talk the Swedishauthorities into a satellite ceremony at their embassy in Moscow, Solzhenitsynfinally decided to stay home, sending only a seven-sentence message to be readat the banquet.
Home at this point was the borrowed Moscow dacha of his newfriend, the cellist Mstislav Rostropovich. Here Solzhenitsyn and a few friendsgathered on the night of the Nobel banquet to celebrate and listen to whateverNobel coverage came on the radio. They eventually heard Solzhenitsyn'sspeech—blurred and full of static, but clear enough for everyone to realizethat the Swedish presenter, afraid of the political implications, had cutSolzhenitsyn's last sentence: "…So let none at this festive table forgetthat political prisoners are on hunger strike this very day in defense of therights that have been curtailed or trampled under foot."
---
Daybook is contributed by Steve King, who teaches in the English Department of Memorial University in St. John's, Newfoundland. His literary daybook began as a radio series syndicated nationally in Canada. He can be found online at todayinliterature.com.