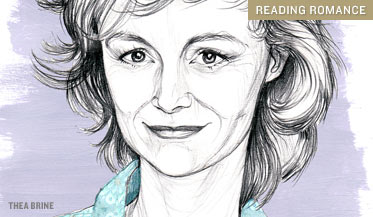 I've never quite understood why Scottish romances are so wildly popular. In my mind Scotland is a place in which undesirable culinary options such as haggis compete with aged whiskey for attention. Both make me nauseated — and that's not to mention how I felt after inadvertently attending a two-hour-long bagpipe concert.

But in the world of historical romance fiction, a man in a skirt with a bagpipe at his side is pure gold. Think of the 1980s film Highlander and the TV show that followed, not to mention the wildly popular film Braveheart: in these imaginative realms, Scotland is a world of swashbuckling, ultra-sexy, bare-kneed men who act like Errol Flynn with a testosterone update. One crucial element is that Highlanders carry with them a kind of instant nostalgia, a wish that love could magically grant those under its influence world enough and time (to misquote Marvell). Nostalgia springs from the fact that the historical Scottish laird is a doomed man, given England's bloody takeover. The merciless progress of Time's winged chariot creates the romantic Highlander, the ultimate fighter, the man who will, somehow, overcome all the odds — not to mention the force of history.

A brief survey of Scottish romances will provide you with oodles of Highlanders beating up squadrons of English soldiers and managing to save their particular clan from extinction. The best of these play with the legend itself, going head-to-head with the sense of loss that clings to the fringes of the laird's kilt.

Teresa Medeiros's Some Like it Wicked gives the proverbial Highlander story a fascinating twist — because the Highlander's a she. Catriona Kincaid pulls a dissolute Englishman, Sir Simon Wescott, out of prison merely so that he can accompany her to Scotland — where she intends to rescue her clan. Medeiros's tale is more delicate and complicated than most; Cationa brings with her bolts of tartan, volumes of Burns's poetry, and a genuine set of bagpipes. Her heroine embodies Scottish nostalgia, even though the novel (set in 1805) faces the brutal reality of English rule.

When Catriona's ragtail clan turn out to be starving criminals who want whiskey rather than poetry, the lure of the Highlander comes squarely against the cruel edge of history. Medeiros cleverly uses the myth to turn Wescott, the dissolute Englishman, into an honorary Highlander, called by the bagpipes into a battle that isn't his own, as he says. Catriona learns that being a Scotsman (or -woman) means more than a fascination with bagpipes and plaid. Yet the real triumph is Cationa's creation of her own Highlander: a former Englishman, to be sure, but now turned to ultimate defender of a soon-to-be-lost way of life.

In Connie Brockway's McClairen's Isle: The Passionate One, the hero is just as dissolute, though not imprisoned. Ashton Merrick is a hell-raising rogue without an ounce of honor or Scottish integrity. He has been tasked with fetching Rhiannon Russell, a Scotswoman raised in England, back to McClairen's Isle, where she will be married to his murderous father (the first three wives having died under suspicious circumstances). The story has a darker twist at the heart: Ashton is famed for helping red-coated British kill Scottish peasants — and those peasants were Rhiannon's clan.

Like Medeiros's, this novel doesn't skirt the ugly side of English conquest. Rhiannon is traumatized by the day English soldiers killed her entire family. And Ash Merrick is no Bonny Prince Charlie, riding in to save the day. His "lean, hard form and dark-lashed eyes" are devoted to debauchery, gambling, and "making everything into a game." But Rhiannon pulls the warrior out of the beleaguered hellion she falls in love with. The pleasure of this novel is watching Ashton become, willy-nilly, the valiant fighter — and honorable man — of Scottish tradition.

Margo Maguire's Temptation of the Warrior offers another interesting twist on the Highlander tale: her hero is a time-traveler from 1,000 years ago, chief of his clan and (in a fun play on the Arthurian legend) also Merlin. Merrick Mac Lochlainn ends up in 19th-century England, where he encounters Jenny, a runaway from a cruel orphanage who seems to have popped out of a Victorian melodrama. Both of them have some magical powers, but Merrick is the doomed fighter with the rags of Scottish glory hanging around him.

When the novel starts, Merrick has lost his memory (time-traveling will do that to you), and Jenny claims him as her husband. They end up traveling with a Gypsy clan while trying to escape the evil machinations of the headmaster of Jenny's orphanage. One of the challenges historical authors face is the need to at least gesture toward accurate gender relations, while making their story appealing to the contemporary reader. The Highlander's testosterone-bounded insistence that he, as ultimate protector, will save the clan can become a focal point for gendered conflict. Here Merrick is convinced that Jenny has no magic, and that he needs to ditch her and return to the past. But she, meanwhile, has discovered she's pretty good at manipulating silver threads (think Tinkerbell with more power). As in Medeiros's novel, Jenny and Merrick end up fighting side by side, and the Highlander learns a lesson in gender equality.

Julie Garwood's early Scottish romances focus directly on the clash between the Scots and the English, generally by bringing together a cross-racial couple, so to speak. In The Bride, she takes on Highlander misogyny when a Scottish laird, Alec Kincaid, ends up with an English bride, by order of the king. Alec is convinced that a) women are insignificant and b) everyone born in England is worse than insignificant; consequently, his bride, Jamie, immediately realizes that she faces a challenge.

Luckily for her, she's a better doctor, hunter, rider, and general all-around Scot than anyone else in the clan. Plus, she speaks perfect Gaelic and shows remarkable equanimity about making love outdoors in the Highlands (which I always believed to be chilly and wet, but what do I know?). This is one of Garwood's most rollicking, sexy, and utterly delicious romances. Here again the force of nostalgia may rest on Alec Kincaid, but Jamie becomes the bridge between cultures. The novel ends in a breathless sense of hope and reconciliation, as if the forces of history itself could be reformulated.

The sad truth is that I've never seen Braveheart. But reading through an orgy of Scottish romances in the last month has convinced me to add it to my Netflix queue. Who cares if Highlanders have gone the way of Greek gods and other men in skirts? All you have to do is open up one of these books to suspend disbelief, push away the distinction between dreamers and fools, and relish a sexy tale of a man in a kilt with world enough, and time, to play the lover.

If you'd like to discuss gorgeous men in plaid skirts (and what do they wear under them, anyway?), please visit the Romantic Reads Book Club, where you can chat with Eloisa and her guests this month — Teresa Medeiros and Connie Brockway.